HandStand2 for iPad 2 Review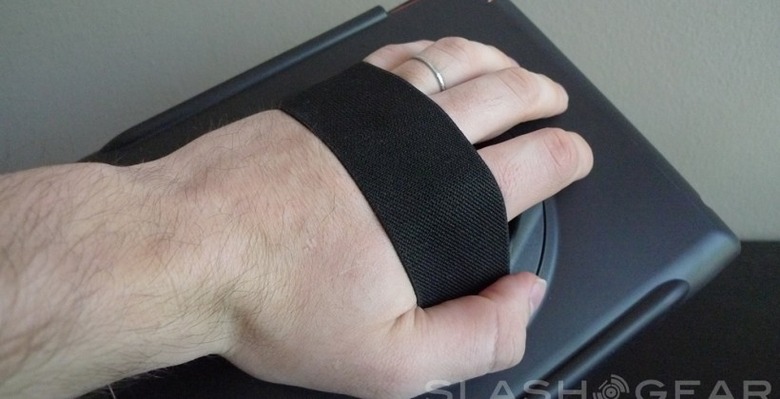 Behold a holder for your iPad 2 that'll leave you with one arm flailing with joy. This is the HandStand2, a case that contains your iPad 2 for safety at the same time as making it easy to carry and work with one-handed. The HandStand 2 features a swivel grip with which you'll be able to essentially turn your arm into an iPad 2, turning the tablet in circles at will! The case itself is thick enough to deflect any bombardment, but is it too thick for those whose main love of the iPad 2 is its thinness? We shall see.
This amalgamation of plastic and bungee material makes for one of the oddest iPad cases your humble narrator has ever seen. It's rough, it's tough, and it's able to hold your iPad 2 like a hard and fast glove. Certainly an engaging concept, the ability to attach your device to your hand, and one I'd certainly use if working on refurbishing houses, for example. For those of you that don't know, it was only a few years ago that yours truly had a stint of carpentry, working on houses and taking notes on prospective houses around the Minneapolis area. Would that I had an iPad 2 at the time, this certainly would have been the accessory to work with.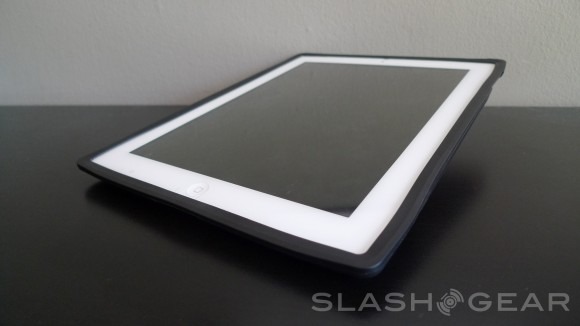 Have a look here at what the creators of the HandStand2 have in mind for you:
Who: HandStand2 for iPad 2 (http://thehandstand.com/)

What: A rotational iPad 2 case that maximizes functionality and protection

Why: Industries integrating iPad into everyday use include but are not limited to:

- Health Care – Making hospital rounds or visiting with patients

- Business – Giving presentations during meetings – easy to view, present and share

- Architecture – Carrying all your blue prints and designs to job sites

- Real Estate – Showing clients property listings on the go in one convent location

- Education – Tracking assignments, taking notes, studying, giving lessons, monitoring programs and staying organized

- Finance – Accessing corporate accounts on the go, eliminating mounds of paperwork, and more

- Hotels and Hospitality – checking in at hotels, taking orders, and replacing menus

- High Tech – Mobility workforce

- And for everyone else who loves their iPad
[vms 532ed34e1954b5b9e4b5]
Now lets discuss a couple points that I'm concerned with, specific to my experience but certainly applicable to your possible future with this case. First, my iPad 2 has a Wrapsol plastic coating on the display side. When applying the HandStand 2, these two conflict as the HandStand 2 has essentially no give in its glove-like surrounding of the iPad 2. Next, I've got to work at pushing in both the headphone port and the Apple port at the bottom. In using the iPad 2 for its HDMI (via extension), I've got to push the plug in harder at least once every 12 hours because the case has pushed it out.
NOTE: the HandStand2 we've got here is an early version, the version you'll be buying will have slight adjustments made to it, and we'll be updating this review as soon as we've got our hands on the newest one.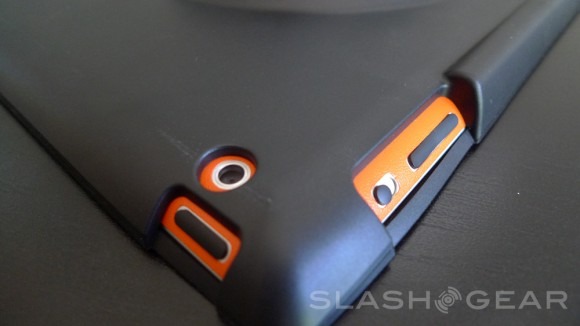 In all, this case is pretty neat. I'm not a fan of cases since Apple put out their own Smart Cover, but if I were in a business where holding the iPad 2 for hours at a time was my job, I'd certainly give the HandStand2 a whirl. Check out the video above and the photos below for more detail, and feel free to pick one up for yourself over at http://thehandstand.com/