Hands-on with Mophie's iPhone 6 and 6 Plus Juice Packs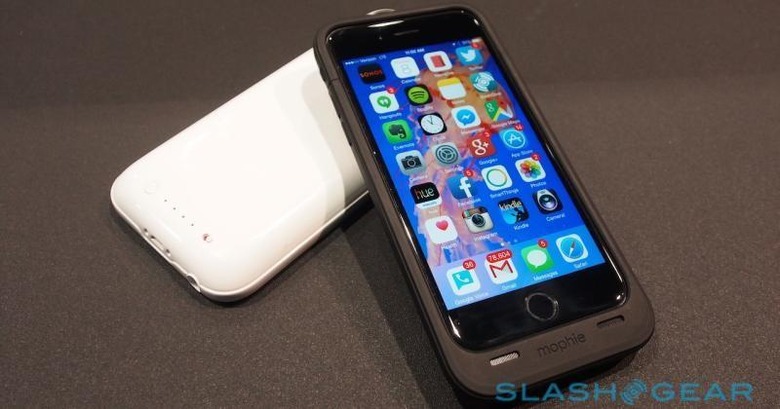 When it comes to smartphone accessories, cases and battery packs probably rank right up there at the top, probably next to earphones. Of course, combining the two is, in many cases, a very good deal. And when it comes to such battery cases, there is probably no other more trusted name than Mophie. Here at CES 2015, the battery case maker unsurprisingly revealed not two but three new products designed for the new iPhone 6 and iPhone 6 Plus and we get to take a hands-on of these deceptively large packs.
Let us get this first out of the way. The Mophie juice pack for the iPhone 6 Plus is probably the thinnest juice pack yet, only 0.57 in (14.48 mm) thick, which is both ironic and fitting. Ironic because of the large size of the iPhone 6 Plus and appropriate because of the same reason. Mophie cannot but make this juice pack thinner to offset the smartphone's size. And yet, at the same time, Mophie's juice packs aren't exactly thin, adding quite a bit of bulk to smartphones.
It's that bulk that might dissuade users from wearing these cases all day and relegate them for emergency situations only. But there are advantages to using the juice packs as your daily driver, if you can stand the added size. Aside from the convenience of not having to remove and put back the case over and over again, the juice pack also redirects the bottom speaker's output to front-facing speakers, which makes for a better listening or watching experience. There is also a blacked out portion for the rear camera that prevents glare from ruining your shot.
All new Mophie juice packs are now available for pre-order, with shipping noted to happen in 3 to 4 weeks. The iPhone 6 Juice Pack, which adds another 60 percent of battery life, costs $99.95. The Juice Pack Air for the iPhone 6, which gives a 100 percent battery boost, costs the same, but the slightly thicker (0.66 in versus the air's 0.63 in) Juice Pack Plus costs a higher $119.95 for the sake of 120 percent more battery life.