Mophie brings extra power to iPhone 6, 6 Plus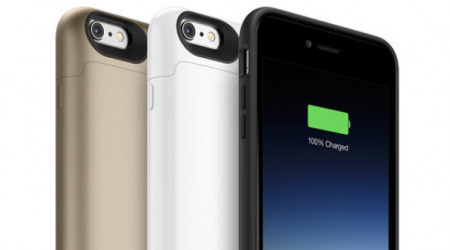 We've already told you how you can coax your iPhone 6 through a few days without a charge, but if you need to go longer, Mophie has your back. Today, they're announcing their Juice Packs for the iPhone 6 and 6 Plus. The duo — Juice Pack Air and Plus for the iPhone 6 and Juice Pack Plus for the iPhone 6 Plus — promise to deliver up to 120% battery for your iPhone 6, and up to 60% extra for the iPhone 6 Plus.
According to Mophie, that's 17 extra hours of talk, 12 full hours of web browsing, and 13 hours of video playback.
The Juice Pack Air for the iPhone 6 will give you a 100% boost, while the Juice Pack Plus provides 120% power for your iPhone 6. The Juice Pack Plus for the iPhone 6 Plus brings you 60% extra battery life.
The cases/battery packs are what you'd expect them to be, too. Bulky but powerful, they're likely best suited as backup packs than everyday drivers.
If you did want to make these your daily cases, they've got a nice blacked-out space around the camera to reduce incidental glare, and front-facing speaker ports to re-direct sound toward you.
Both the Air and Plus have pass-through charging tech, so you'll power up your phone when you need to, with the ability to sync as well. Quick-charge technology will keep you away form the wall, too.
All Juice Packs are up for pre-order via Mophie's site now, and start at $99.95.