Half-Life 3 tipped for Gamescom reveal (UPDATE: Valve denies announcement)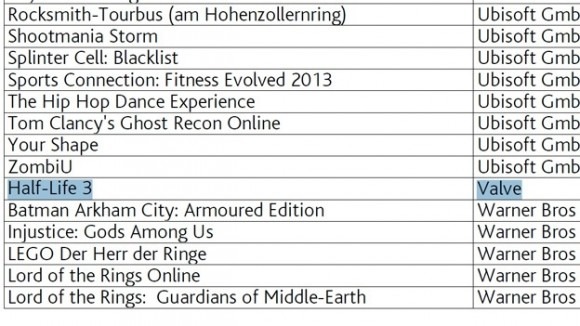 Gamescom is due to kick off in Germany tomorrow, bringing together games publishers from across to the world to highlight the latest and greatest titles coming out across various platforms. T3 has managed to spot an exciting reference in the list of games that will be announced at the conference. According to the PDF, Valve will officially announce Half-Life 3 at the gaming event.
Half-Life 3 is listed among games from other publishers, such as Arkham City: Armored Edition and Injustice: Gods Among Us. If Valve does indeed take to the stage at Gamescom, it would be a massive announcement for the gaming community. As if that wasn't enough, Game Informer reports that it will print its latest issue a day later than usual in order to make sure a "huge announcement" at Gamescom makes it to print.
It would be an interesting move from Valve. The company has released episodic packs for Half-Life 2, with many believing that the company was hard at work on Episode 3 despite long delays. It looks like Valve may simply have skipped the additional content and gone straight to the sequel. Having said that, the company is notorious for making sure its games are perfect before releasing them: even if Half-Life 3 does make an appearance, it could be a long time before we see an official release.
Half-Life 2 was first shown off at E3 2003, impressing crowds and onlookers with its then state of the art Source engine. The game was originally slated for a release later that year, but an early version of the game leaked out onto the internet in October 2003, causing Valve to delay the title, eventually releasing it in November 2004.
UPDATE: Valve's VP of marketing, Doug Lombardi, denies that an announcement will happen at Gamescon: "We will have the Steam team there to meet with developers and publishers. No game showing planned."