Hail the $149 Chromebook: Haier and Hisense go cheap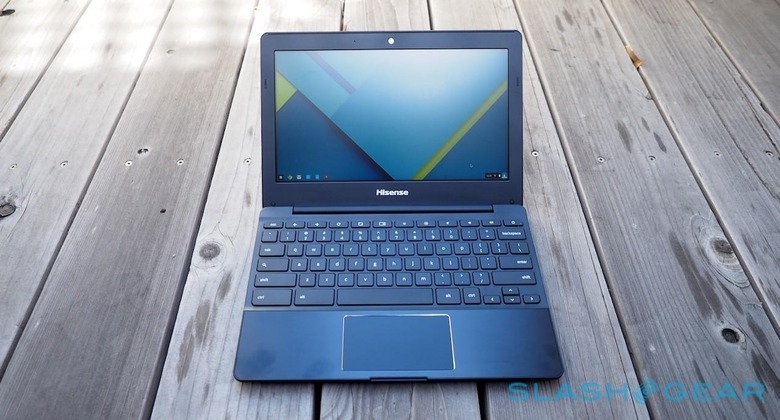 Chrome OS has arguably always been best at its very cheapest, and now Hisense and Haier are looking to drive the cost of cloud-centric computing even lower, with a pair of $149 Chromebooks. Targeting not only budget-conscious families, schools, and businesses, but developing markets keen to get online, the two laptops each run Chrome OS on Rockchip's 3288 quadcore chipset. And, while they may be a world away from the Pixel in price, Google insists the recently-updated premium Chromebook had a hand in the design of the budget duo.
"We don't look at Pixel as just a device," Google VP of Chromebook Product Management Caesar Sengupta explained at Google's San Francisco offices this week, "we look at it as a springboard to innovation."
Part of that is exploring new routes to get Chromebook into big verticals, such as education and enterprise. Haier is already one of the biggest education computing suppliers, for instance, while Hisense has a broad footprint in consumer white goods.
Hisense Chromebook
So, Haier will actually offer a special version of its Chromebook 11, the Chromebook 11e, with a ruggedized casing and integrated carry handle. It also has a spill-proof keyboard and – extending longevity in the classroom – a removable battery.
According to Sengupta, Google's goals aren't especially humble for Chrome OS. Pointing to the original Samsung Chromebook, which at $249 was Amazon's top-selling computer for seventeen months, he predicts an even more aggressive shift in the consumer electronics space with the arrival of the $149 Hisense and Haier models.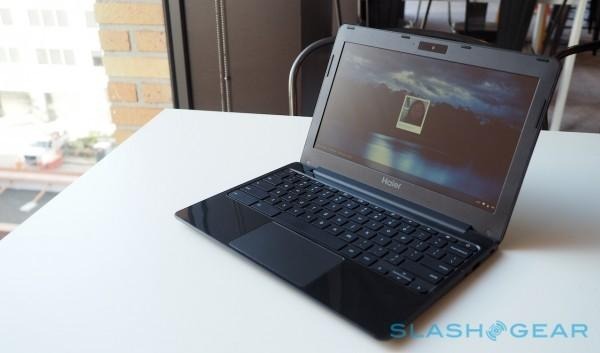 The combination of a full keyboard, full-sized USB, and HDMI connectivity, along with the flexibility of Chrome OS, "changes what users expect for their money," Sengupta argues.
As for cheaper Windows notebooks, while the Google exec welcomes more affordable options, he's unconvinced machines have what it takes to compete, especially given some of the cuts that can be involved to bring down prices.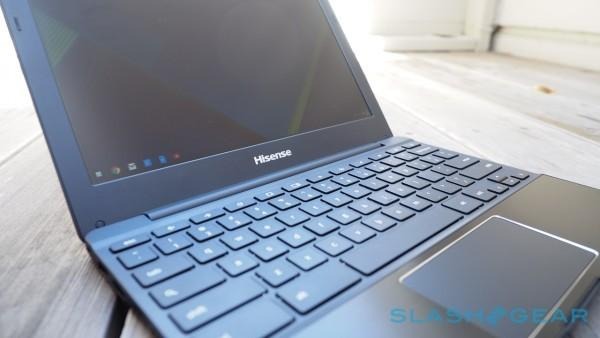 "Just dropping specs without rethinking the overall experience doesn't really do much," he pointed out, "we've seen that before with netbooks." Meanwhile, there are other expenses to take into account beyond the sticker price, like the ongoing maintenance which can amount to ten times the cost of a Windows notebook itself for a school or business.
Hands-on, neither machine is going to be mistaken for a Pixel or even ASUS' Chromebook Flip, though the plastics feel sturdy. Neither keyboard has the sort of crisp click that keen typists generally prefer, though there's plenty of key travel.
Full-sized ports – including a full-sized HDMI – are welcome, though it would've been great if a regular SD rather than microSD was accommodated. Meanwhile, the displays are fair but you're not going to mistake them for an IPS panel; viewing angles are a little limited, and of course there's no touch support.
The Haier and Hisense Chromebooks will go on sale today, through the Google Store as well as Amazon, Best Buy, and other outlets. They're priced at $149 each.
Haier Chromebook