Hackintosh netbooks benchmarked: on a par with 2004 G4 iBook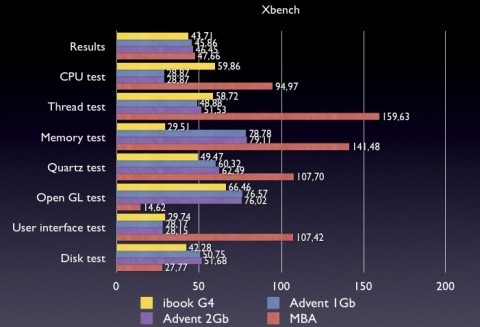 Since Apple won't give us the netbook so many people have been calling for, the past six months have seen a surge in Hackintosh netbooks: formerly Linux or Windows XP machines tweaked into running OS X.  It's not exactly allowed in the terms of Apple's EULA, no, but with the latest drivers it's not exactly difficult, either; question is, is the machine you end up with worth it?  Over at Apple Insider they've been running benchmarks on an Advent 4211 (an MSI Wind U100 rebadge), comparing it to a late-2004 G4 iBook and a first-gen MacBook Air.
According to Geekbench and Xbench, the G4 and the Atom processors are pretty much on a par; the N270 even edges ahead of the 1.33GHz G4 in some tests.  Flicking over to some more real-world usage examples, it's not so clear.  The Atom CPU sees apps boot faster, with one of the more extreme examples being loading the GIMP photo-editing package which takes 49 seconds on the iBook and 7 seconds on the Advent netbook with 1GB of RAM, but the G4 often does in-app tasks quicker.  Converting an album in iTunes, for instance, takes 264 seconds for the G4 and 397 for the 1GB Advent, while applying a coffee stain filter in GIMP takes the G4 almost half the time of the Atom.
It's worth checking out the full benchmarks – which go on to cover battery life and power consumption, together with more apps – if you're considering putting together your own Hackintosh netbook.  Still, it'll be interesting to see how these figures change once the first NVIDIA Ion platform machines hit the market.
[via GottaBeMobile]