Guitar Hero: World Tour launches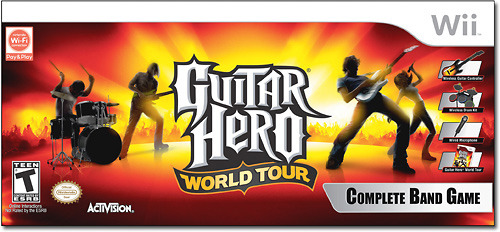 We've been hearing about it for so long, it's almost a surprise that it hasn't already been released.  Still, today's the day and Activision have announced that the much-anticipated Guitar Hero: World Tour has hit shelves.  New instruments, new online and offline play modes and, of course, new tracks add up to what will probably be a key holiday must-have.  Not only is Guitar Hero: World Tour itself available, but bundle sets including the new wireless instruments.
The emphasis is much more on collaborative play than using a single guitar now, hence the new instruments.  The guitar itself has been updated, with a touch-sensitive slide on the neck and microphone, while a new drum set features three drum pads, two raised cymbal pads and a bass kick pedal.  Activision are claiming a realistic bounce-back while drumming thanks to specially selected rubber; most parents would be happier with a headphone socket.
Guitar Hero: World tour is available in PS3, PS2, Xbox 360 and Wii versions, each with slightly different gameplay and music tweaking options.  However each can record new tracks using the wireless instrument controllers, sharing them through the online GHTunes service.  The game itself is priced between $49.99 and $59.99, platform depending, while there are also bundles with the new guitar controller ($89.99 to $99.99) and the full band kit ($179.99 to $189.99).
Press Release:
Activision's Highly Anticipated Guitar Hero(R) World Tour Takes Center Stage on Retail Shelves Nationwide

Cooperative Band Experience, All-New Controllers Including Guitar, Drums and Microphone, Robust 86-Song On-Disc Set List, In-Game Celebrity Appearances and Innovative Music Studio Combine for Unprecedented Music and Gaming Experience

Over 20 Tracks From Artists Such As Metallica, R.E.M. and Oasis Available As Downloadable Content for All Next-Gen Consoles – including Wii – During First Month

Living-room legends are

now free to jump on stage and rock as Activision Publishing, Inc.'s

(Nasdaq: ATVI) Guitar Hero(R) World Tour, shreds, drums and wails onto

retail shelves nationwide. Transforming music gaming by expanding Guitar

Hero's(R) signature guitar gameplay into a cooperative band experience,

Guitar Hero World Tour combines state-of-the-art wireless controllers in

new online* and offline gameplay modes and a Music Studio feature that lets

you compose, record, edit and share your own rock and roll anthems. Guitar

Hero World Tour is the most complete music game to-date with 86 on-disc

tracks from music legends such as The Eagles, Van Halen, Metallica, Michael

Jackson and The Doors and featuring in-game appearances by world famous

artists like Ozzy Osbourne, Billy Corgan and Travis Barker.

"Only Guitar Hero World Tour has the star power and brand recognition

to bring family and friends together to rock this fall," said Dusty Welch,

Head of Publishing for RedOctane. "With a massive on-disc set list and a

host of downloadable content on the way, new high-quality controllers,

including the drum kit controller and a redesigned guitar controller;

multiple online and offline gameplay modes, plus the groundbreaking Music

Studio music creator and GHTunes(SM), a revolutionary user-generated music

hub, Guitar Hero has again set the standard in the music-based videogame

genre."

Guitar Hero World Tour delivers more ways to play than ever before.

Virtual musicians can live out their rock and roll fantasies by playing

either a single instrument, or any combination of instruments within the

game, in addition to the full band experience. In addition to all of the

online gameplay modes from Guitar Hero(R) III: Legends of Rock, Guitar Hero

World Tour introduces Battle of the Bands mode which allows eight players

to join online and challenge each other band-to-band to determine who is

the best of the best. In the Band modes, up to four players can jam

together, online or off, as they progress through the game, and in

single-player Career Mode, players can jam on any of the instruments

in-game utilizing the controllers in branching venue progression enabling

them to rock out in the order of their choice.

The game's innovative new Music Studio lets players express their

musical creativity by giving them access to a full complement of tools to

create digital music from scratch, utilizing all of the controllers, and

then play their compositions in the game. Music creators can also share

their recordings with their friends online through GHTunes(SM) where other

gamers can download their unique compositions and play an endless supply of

unique creations.

The Wii(TM) version of Guitar Hero World Tour features the exclusive

Mii(TM) Freestyle mode, an intuitive gameplay mechanic that connects

players to music in a whole new way by incorporating their Mii and engaging

players with the freedom to create their own groove.

In addition to a newly designed more responsive guitar controller which

features a touch-sensitive slide on the neck and microphone, Guitar Hero

World Tour delivers a genuine drumming experience by utilizing a realistic

drum controller. Featuring three drum pads, two raised cymbal pads and a

bass kick pedal, the drum kit controller combines larger and quieter,

velocity-sensitive drum heads with soft rubber construction to deliver that

certain bounce back when struck with a drum stick that drummers are used to

and is easy to set up, move, break down and store.

Guitar Hero World Tour is now available for the Xbox 360(R) video game

and entertainment system from Microsoft and PLAYSTATION(R)3 computer

entertainment system. The Wii(TM) home video game system from Nintendo

version is developed by Vicarious Visions. The PlayStation(R)2 computer

entertainment system version is developed by Budcat. The game is rated "T"

for Teen by the ESRB. For more information on Guitar Hero World Tour,

please visit worldtour.guitarhero.com.