Guidebook App for Facebook f8 2011 attendees Hands-on [Video]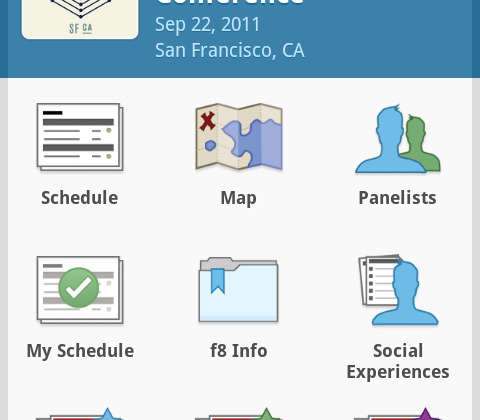 One of the most obvious and correct steps any forward and mobile-thinking event these days should have is a companion app to help attendees navigate their way through the day. Better yet, someone should create an app that makes it easy for events to set up a guide for themselves, little to no hassle involved. Wait, that exists? It's simply called Guidebook? Well that's great! We took a few minutes today to check out the Facebook f8 entry into the Guidebook app to prepare for tomorrow's events and we'd just love to show you what it's all about.
You can get the Guidebook app for several different mobile platforms, these including Android (as seen in this post), iOS for iPhone, BlackBerry, and Windows Phone 7 [grab the app here]. When you start up your Guidebook, you've got one action to do before reaching your f8 guided experience. You've gotta go find the "f8 Developer Conference" guidebook and download it. Once you've got it, you've got it. There are a couple of things in the guide that require a data connection, but for the most part, you'll be set to go even if you've got no connection in the building.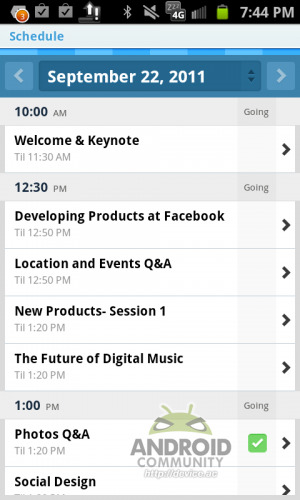 Inside your guide, and remember to pay attention to the items here as indicative of what's possible for future events, you'll have 9 options. The bottom option is a banner that connects to the f8 Developer Conference website – or, we assume, future conferences once this one is over. Then there's the big Schedule. This first icon in the upper right contains every event happening inside the event, listed together so that you might select the events you want to go to and see what you'll have to miss at the same time – or if you've got a team with you, here you can see who might go where.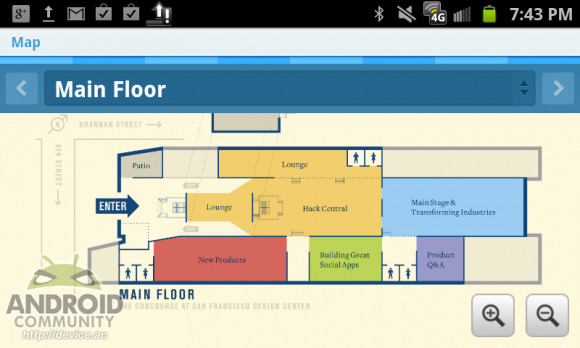 Next is Map, a pinch-to-zoom ultra-simplistic layout of where everything is in the building. Panelists is third, this showing off every different person that'll be showing off their wares and/or their knowledge during the conference. This is also a good place to get the correct spelling of a person's name and get a bit of background information so that you're aware of who you're going to go see speak – don't want to be asking a question of someone during a panel and mistake them for someone they're not!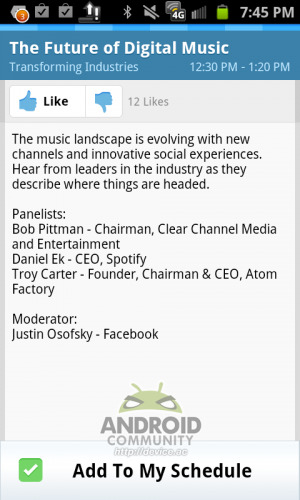 Along the same lines as Schedule is "My Schedule", the difference being that here you're able to create your own schedule from the events as they sit in the following collections: Transforming Industries, Building Great Social, Product Q&A, and New Products. Once you find a talk, panel, or Q&A you're interested in, just tap it and find the "Add To My Schedule" button on the bottom of your screen. Once you've added an event in this way, you'll be prompted to be reminded of your event a certain amount of time before the event takes place. Get alerted! Don't forget!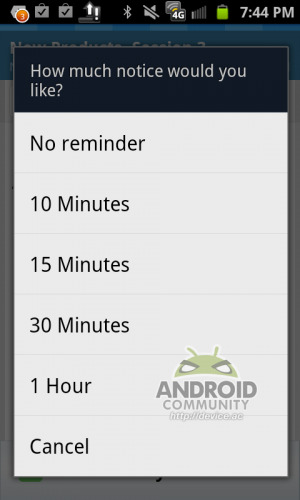 There's also a Share collection and an f8 Info collection, both of these being basically exactly what you think they are, the ability to let your friends know you're using the app with various 3rd party apps and some extra info on the event and events via 3rd party links. Lastly there's Social Experiments, a collection of what are basically mini interactive events, events such as:
Photo booths – Capture f8 on film – There are 9 photo booths around the Concourse, and photos taken at the booths are automatically shared inside the Concourse and uploaded to your Facebook account. When you tap your f8 Presence card to the screen, you can also tag yourself in the pics.
and
Music – Be the DJ at f8 – Change the music in the f8 music room based on artists and songs you've liked on Facebook. When you use your f8 Presence card in the music room, the music or music queue will change based [on] your public likes on Facebook
and since I'm sure you're wondering what a Presence Card is,
Connections – See how you connect with f8 – When you tap your f8 Presence card and enter the connections space, you can experience the power of the social graph between you and other f8 attendees. See what connects you to f8 attendees including your likes, friendships, and more.
And all of this is, of course, free for download. Guidebook is a free app, also. The cash exchange here must be between organizers (looking to offer guides to their event's attendees) and the Guidebook developers because there's no ads anywhere that I or we've been able to see thus far. In other words, this is one heck of an app. We recommend more event organizers use it in the future if they get the chance – well done!
[vms 14e359df74fa77eded3f]
Once again, [grab the app here].
Also I should note again that we're live at f8 2011 today over in San Francisco, California, and will be bringing you cool Facebook coverage where applicable!