GTA: Chinatown Wars hitting DS from March 17th 2009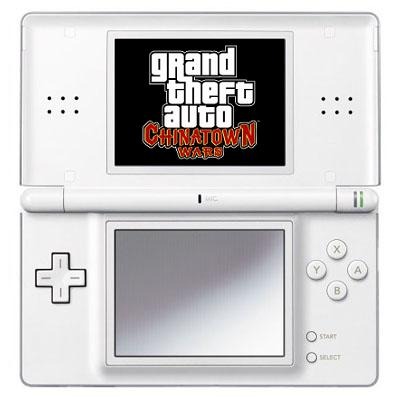 Rockstar Games have announced the North American and Europan release dates for Grand Theft Auto: Chinatown Wars for Nintendo's DS handheld.  As of March 17th, North American gamers will be able to pick up the title, with European availability following three days later on March 20th. 
The game incorporates a completely rebuilt Liberty City for the handheld, with an isometric viewpoint and a new targeting method that introduces an auto-aiming system controlled by the back right-hand button.  There's also weather affects and minigames.
Previously the Rockstar developers have claimed that the game runs on the DS with no lag or slow-down, a feat requiring rewriting of just about all the code.  Check out the screenshots for GTA: Chinatown Wars on the DS here.
Press Release:
Rockstar Games Announces Release Date for Grand Theft Auto: Chinatown Wars for the Nintendo DS™

Critically acclaimed Grand Theft Auto franchise makes its DS debut this March

New York, NY – December 15, 2008 – Rockstar Games, a publishing label of Take-Two Interactive Software, Inc. (NASDAQ: TTWO), is proud to announce the release date for Grand Theft Auto: Chinatown Wars, the latest entry into the genre-defining Grand Theft Auto series. Developed by Rockstar Leeds, in conjunction with series creators Rockstar North, Grand Theft Auto: Chinatown Wars will be available for the Nintendo DS™ on March 17 and 20, 2009 in North America and Europe, respectively.

"Rockstar Leeds have once again created a game that far exceeds our standard for deep and innovative entertainment," said Sam Houser, Founder of Rockstar Games. "We are incredibly excited to share this enormous and uncompromising Grand Theft Auto experience with DS fans."

Edge Magazine commented, "How does Rockstar follow Grand Theft Auto IV? By rebuilding Liberty City from the ground up on DS – and not compromising its vision one iota."

Nintendo Power added, "...it's undeniable that Chinatown Wars is doing something no other DS game has come close to: creating that living, breathing world the Grand Theft Auto games are known for."

For more information about Grand Theft Auto: Chinatown Wars, please visit: www.rockstargames.com/chinatownwars.

About Take-Two Interactive Software

Headquartered in New York City, Take-Two Interactive Software, Inc. is a global developer, marketer, distributor and publisher of interactive entertainment software games for the PC, PLAYSTATION®3 and PlayStation®2 computer entertainment systems, PSP® (PlayStation®Portable) system, Xbox 360® and Xbox® video game and entertainment systems from Microsoft, Wii™, Nintendo GameCube™, Nintendo DS™ and Game Boy® Advance. The Company publishes and develops products through its wholly owned labels Rockstar Games, 2K Games, 2K Sports and 2K Play; and distributes software, hardware and accessories in North America through its Jack of All Games subsidiary. Take-Two's common stock is publicly traded on NASDAQ under the symbol TTWO. For more corporate and product information please visit our website at www.take2games.com.

Nintendo DS is a trademark of Nintendo.

All trademarks and copyrights contained herein are the property of their respective holders.