GroupMe 3.2 update released for Android and iPhone, shares galore included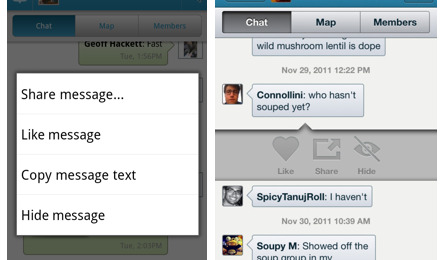 It's time to get your update tapping fingers out, ladies and gentlemen of the multi-platform chat, because your favorite in-browser and mobile group chat program GroupMe has been updated to version 3.2. This is an application that's been vastly improved since its first iterations on mobile, it now still able to send messages inside the app and out to texts for lesser phones, but now with such fabulous additions as "likes" and the ability to share individual chat bubbles.
This version is allowing users to take messages out of the maximum super speed chats that go on in GroupMe and single them out for later viewing. Share them to any of your connected apps or copy the message text to paste out wherever you like. You'll also notice a slightly improved layout and, of course, bug fixes galore. GroupMe here tries to add a new layer to the equation so as to not be left behind by the social network wave. Both Android and iOS versions are available today.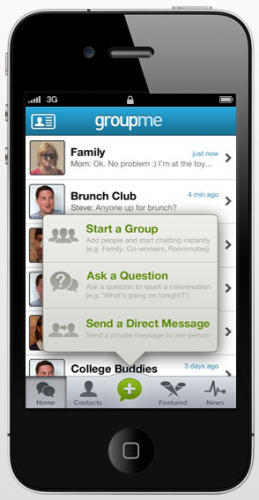 One thing that GroupMe will be taking AWAY from the app is conference calling. Believe it or not, it turns out that people don't talk on the phone anymore – surprise! Thusly GroupMe has released the following message:
"The best thing about GroupMe is the way people use it. We've seen extraordinary use cases that continue to inspire us.  From baby deliveries to bible study groups, and the 11% of groups that are used for keeping families close, we've see GroupMe help all types of people. As the service continues to evolve, it's important that we focus on and enhance the features that people use most.  GroupMe messaging has helped bring people closer together across the globe.  In fact, push messaging within the app recently exceeded total text messages across our network.

As we continue to focus on our core functionality of group messaging, we believe it's important to sunset features that are not widely utilized. Starting January 1, GroupMe will disable the conference calling feature by default across the network.  We're working to improve the overall GroupMe experience for our users and it's important for us to stay focused on what we do best: helping people stay connected with their real life network through group messaging." – GroupMe
They DO have a good announcement, on the other hand, for those of you that use conference calling on the regular: if you used a conference call in the last month, you'll be able to make conference calls on your existing group number indefinitely. How's that for keeping good friends where they should be? In addition, if you think you'd like conference calling in the future, you can contact GroupMe to get your number activated with it at conference@groupme.com — we imagine this is because they've got a situation where this setup makes the most sense financially. Easy to understand, of course.