GrooveMaker 2 released for Android and iOS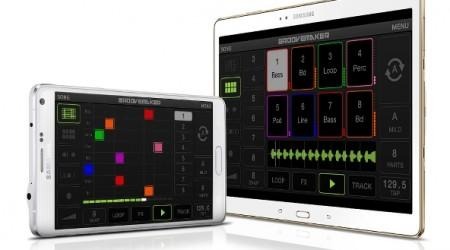 This week the folks at IK Multimedia have released their newest in music-making technology for the mobile universe with GrooveMaker 2. This app takes what GrooveMaker was and amps it up, taking what was one of the first real-time music-making apps for mobile devices and giving it a new generation of boost. GrooveMaker 2 continues the tradition of working with loops sold in song packs. Each song pack can be found in one of several categories – House, Dubstep, Hip-Hop, Techno, Trance, Electro, Drum and Bass, Reggae, Reggaeton, Rock, and more.
IK Multimedia are bringing on signature packs as well. You'll find artists like Ace from Skunk Anansie, Chris Domingo, and Cool & Dre amongst others. Every song pack contains a cool 60 or more loops. Kick drums, basslines, pads, effects, percussion, and more are included.
Above you'll see the app working on a Samsung Galaxy Note 4. You'll also be able to roll with basically any other Android device, iPhone, and iPad as well.
IK Multimedia makes devices like their mobile mixer, iRig MIX – the GrooveMaker 2 app works with devices like these automatically.
NOTE: GrooveMaker 2 was released for iPhone and iPad late last year – the Android version has just been released this week. You'll be able to access a limited version for free, or a $9.99 version with full features through each platform's respective app store.