Griffin has brought the old PowerMate rotary controller back from the dead, snipping off the USB cable for the Powermate Bluetooth, a wireless version. Intended for video editors, digital artists, and anyone else who might want a physical control for their digital environment, the PowerMate Bluetooth defaults to volume and mute on your Mac – PC users are out of luck, sadly – but can be switched between different app presets by Griffin, or given user-assigned features.
So, out of the box there are iMovie and GarageBand presets, but the customization app allows the PowerMate to work as a scroll controller in Office documents, to perform macros if clicked, or anything else. Multiple PowerMates can be paired with a single Mac – it uses Bluetooth 4.0 – and as before there's a glowing blue base which lights up around the dial.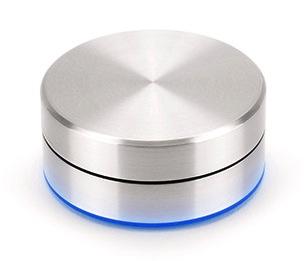 That glow isn't just aesthetic. Using Griffin's software, it can be customized to pulse at different rates and in different patterns according to system notifications, such as new IM messages or emails.
The original PowerMate was simple – a large dial that also could be pressed as a select button, and which hooked up via USB – but it found quite the appreciative audience. The tactile, aluminum knob found itself installed into car dashboards as part of DIY infotainment systems, on coffee tables for HTPC control, and fitted into the walls of home-made smart homes.
Even after Griffin discontinued it, the eBay market for PowerMate controllers was always bubbling away. A quick check of the auction site shows various PowerMate sellers, with the peripheral commanding $30+ despite being more than a decade old.
The new PowerMate Bluetooth has some boots to fill, then, and it'll start trying to do that from this Summer, priced at $59.99.