Griffin kid-friendly accessories explode upon CES 2013

This week the folks at Griffin are sure to bring on more than just a couple of their own accessories for devices of all kinds, but right at the start they've made it bright and colorful for the kids. Starting with an item as small as a pencil – the Capper Stylus, shaped like a rocket here in the first images we've got, transforms a standard pencil into a tablet-friendly stylus – how about that? Then there's a set of Kazoo iOS cases (which you see in monkey form here for the iPhone) and frog-themed headphones – needless to say, we'll be getting really cute with Griffin this year.
The Kazoo Heaphones you're seeing here come in several friendly animal-shaped looks including the aforementioned frog and at least one kind of penguin, then there's a set of iPod touch cases with every animal from an elephant to a zebra – imagine that! They've also worked with that fancy little lanyard connector on the iPod touch bringing you a set of charms – once again very zoo-friendly. They've got a set of Kazoo AUX cables coming out, each of them made to connect in just about as kid-friendly a way as possible for your kid's audio equipment, too, with more animals on the fritz of course.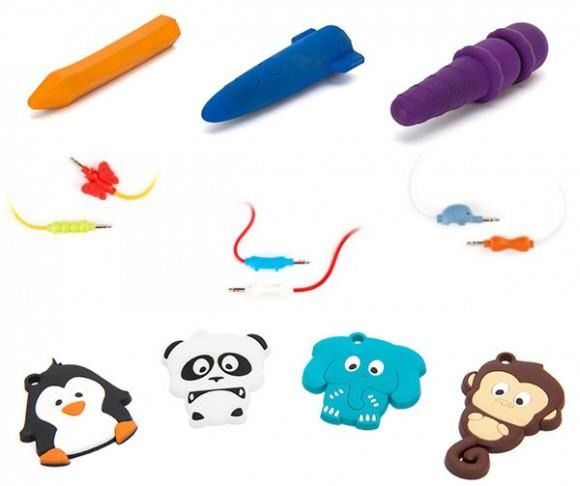 The most interesting of the releases here is the Griffin Capper Stylus, this being tablet, smartphone, or any capacitive touchscreen interface, really, friendly, made to attach to your regular standard pencil or pen. This means that your child will be learning to use a standard-sized writing utensil while they've still got the tablet in front of them – how handy! These come in a variety of shapes, sizes, and colors as well. The fun continues with Nickelodeon and Teenage Mutant Ninja Turtles-themed accessories, with both Griffin and Nickelodeon making a statements specifically for these new doors opening for 2013:
"Nickelodeon properties have passionate fans who are eager for products associated with their favorite shows. Partnering with Nickelodeon opens the door to tons of fun accessories modeled after the most popular characters among kids of all ages. We look forward to a long-lasting partnership, kicking off at the 2013 CES." – Mark Rowan, President of Griffin Technology

"Nickelodeon properties have passionate fans who are eager for products associated with their favorite shows. We are excited to partner with Griffin to produce unique and trendy products to help us further expand our consumer electronics offerings." – Manuel Torres, Senior Vice President, Global Toys and Consumer Electronics, Nickelodeon Consumer Products

This lineup begins with so much Spongebob your eyes are going to fall out. There's an 8-bit styled iPad cases, "Faces" cases for the iPhone 5 and iPod touch (with interchangeable faces!) and a lovable SpongeBob Woogie – that's a big stuffed animal with a special app to make it "alive", so to speak, when you've got your iPhone, iPod touch – or even Android device inside! Dora the Explorer is popping up too with cases for iOS devices galore, starting with the Dora the Explorer Skin for iPod touch.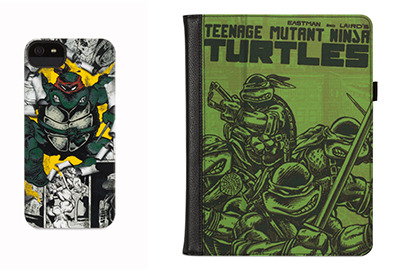 Then comes the most awesome set of comic book characters in the history of the world, those four green-skinned heroes in a half shell that hold a special place in this humble narrator's heart, the Teenage Mutant Ninja Turtles. This brand is working with Nickelodeon at this point in history and will be rolling out with Griffin with at least one TMNT Shell for iPhone 5 and iPod touch as well as a Folio for iPad.
Stick with us all week for more action from Griffin as well as the rest of the gadget-loving universe as we traverse CES 2013. Check out our big amazing CES portal for all things hands-on as well as early release and otherwise soon-to-exist in the consumer market machines. Check the timeline below as well for examples of some of the products above with slightly different designs, Griffin quality manufacturing in-tact.