Green-House Japan LCD graphics tablet takes on Wacom Cintiq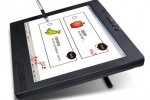 Green-House Japan have announced their new graphics-tablet-cum-LCD-display, and unfortunately the one thing we really want to know about the 17-inch device – how it compares, price-wise, to Wacom's Cintiq 12WX or PL-900, both exceedingly expensive – is left unsaid.  What we do know about the GH-PTB17-E is that it has a 1,280 x 1,024 LCD paired with a wireless pen capable of 512 levels of pressure resolution.
The LCD itself boasts an 800:1 contrast ratio and 300cd/m2 brightness, and has a 5ms response time.  There are also two 1W stereo speakers integrated and the whole thing weighs a not-especially-lap-friendly 6kg; ports include VGA for the display, a 3.5mm jack for the audio and a USB for the tablet functionality.
Both Windows and Mac systems are supported, and Green-House are pointing out that the GH-PTB17-E isn't just good for digital artists but for anybody wanting to browse the web more naturally or mark up documents in pen-enabled Microsoft Office.  Set to arrive in Japan this month, if it can come in under $1k then it might present a tempting alternative to the expensive Wacom systems.
[via Akihabara]