Wacom extends the PL-Series Pen Display with PL-900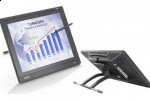 Wacom unveils the PL-900, a 19-inch LCD pen tablet, offering a 4:3 native resolution of 1280x1024 of interactive pen screen real estate with a smart auto-sensing video scalar that switch source aspect to 16:10 widescreen format.
The PL-900 is the latest addition to company's PL series pen interactive display with an enhanced visual quality- a much wider viewing angle and anti-glare finish. The high-resolution LCD of 19-inch screen is fabricated with a digital pen enabled screen for writing, annotating and navigating directly with the pen on the screen.
It supports video connectivity of DVI-I for both analogue and digital sources, and its content can be display though similar connection via DVI-I output for external displays or projectors.
The Wacom PL-900 is compatible with Windows or Mac OS, and is available now at £1,249.99 ($1,713) including VAT and comes with a two-year warranty. U.S. pricing and availability have not yet been announced.