Graceful Explosion Machine arrives on Nintendo Switch eShop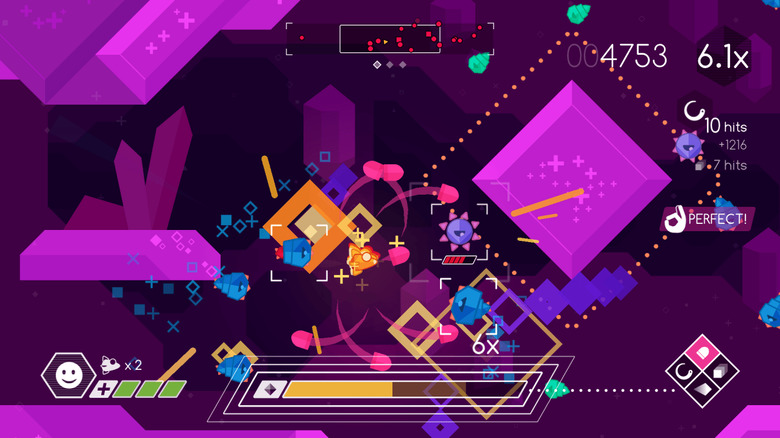 This week is a fairly big one for the Nintendo Switch eShop, with two big releases now available for digital download. The first is Graceful Explosion Machine, an indie title that turned a lot of heads when it was first previewed during Nintendo's Nindies showcase for the Switch.
For the uninitiated, Graceful Explosion Machine is a colorful shoot 'em up made by Vertex Pop. You play as a tiny ship and, like most shoot 'em up games, have to survive an onslaught of enemies in each level. You'll have four different weapons of your disposal (one for each face button on the right Joy-Con), including a sniper beam, energy sword, and missiles.
Graceful Explosion Machine's colorful aesthetic has earned it a fair amount of admirers in the time since it was previewed during the Nindies showcase, and if you want to check it out for yourself, the cost of admission is $12.99.
Aside from Graceful Explosion Machine, Switch owners also have a port of LEGO City Undercover to check out. Though this has been exclusive to the Wii U for a few years, it's launching on Nintendo Switch, Xbox One, PS4, and Windows this week. Being a retail release, this game will set you back a full $59.99.
Just as well, Ubisoft and Nintendo have launched a new demo for Just Dance 2017, so if you want to see how it plays on the Switch, you don't need to purchase it outright. Other games hitting the Switch eShop this week include Vroom in the Night Sky for $9.99 and Alpha Mission II – a classic NeoGeo game – for $7.99. There's a bunch to check out on the Switch eShop this week, and all of these titles are available now.