Grace Audio Mondo Wi-fi internet radio revealed and detailed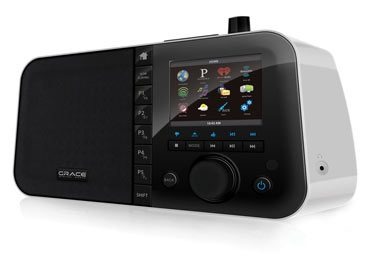 This week we're taking a look at a brand new entry into the strange side of internet-connected devices with Grace Audio's Mondo Wi-fi internet radio. This device has a lovely 3.5-inch color display with which you can select from the pre-set applications built in to the device to bring internet radio to your ears from your living room, your office, or wherever else you've got Wi-fi. This unit is also connected to over 18,000 free radio stations via the web including such popular choices as iHeartRadio, the BBC, and NPR.
This device has Pandora, Dar.fm, and SiriusXM built in alongside hits like Live365 VIP and Pandora radio. You've also got a WeatherBug app so you'll always know the weather outside your window! This unit has the option of a rechargeable battery (sold separately) or a wall plug and comes with its own remote control – there are also custom apps for both iPhone and Android for controlling the radio from your pocket! The whole unit weighs in at 6 pounds and sits at 3.5 x 9.75 x 5.75 inches so you can toss it in your backpack.

You can also plug the whole speaker in to your MP3 or CD player through its standard RCA to mini cable jack for audio from anywhere. Though this unit has been around for some time (dating back to CES 2011 for some features), it's just now becoming available for purchase. This beast is available straight from Grace Digital Audio for $179.99 in either white or black.