GottaBeMobile Video Review Of The Fujitsu P1610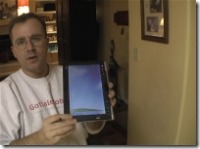 If you remember looking at the Fujitsu P1610 Tablet PC and thinking "oh my, that's both compact, well-specified and sexy" then you'll likely be interested in GottaBeMobile's latest video review, in which both the P1610 and Rob Bushway star.  Rob puts the $1,649 convertible through its paces, exploring the out-the-box experience as well as that compact keyboard, the passive-touchscreen and see just how well it works as an ultra-portable note-taker.
As ever, it's a thorough and informative video, and worth watching whether you're in the market for the P1610 or are just curious about Tablet PCs in general.
Fujitsu P1610 Tablet PC Video Review Hardware InkShow [GottaBeMobile]