GoPro HERO3+ camera is 23% smaller than last-gen GoPro camera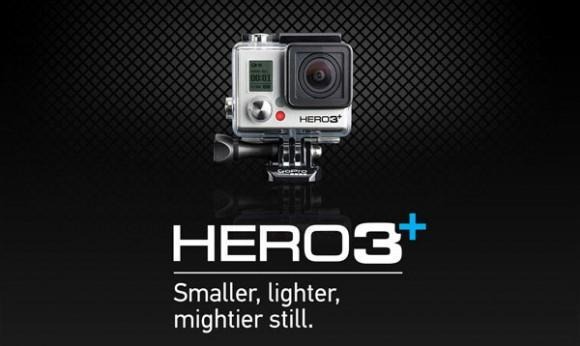 GoPro has announced a new updated line of action cameras called the HERO3+. GoPro promises that the camera is 20% smaller than previous generation cameras and has 30% better battery life. The camera also features an updated lens and some new video capture modes making it the most advanced GoPro action camera around.
GoPro has also unveiled several new mounting accessories. Two different cameras are available. The HERO3+ Black Edition has a new housing that is 20% smaller and lighter overall and waterproof to 40 m. Battery life is extended by 30% and GoPro promises four times faster Wi-Fi for quicker transfer and playback of content from the camera to mobile devices.
To be able to play video back to your mobile device, you do have to be running the GoPro App. One of the new video modes offered by this camera is the SuperView offering a more wide angle perspective than was previously available. The camera also has auto low light mode to adjust the frame rate depending on the light condition and the new lens offer sharper video and improved image quality. The Black Edition camera carries a price $399.99.
The HERO3+ Silver Edition uses an image processor that's two times faster than the previous HERO3 Silver Edition camera. The camera supports 1080p60 and 720p120 fps video. This camera has a housing that's 15% smaller and lighter overall and is still waterproof to 40 m. It also has faster Wi-Fi for transferring photos and videos to your mobile device using the app. This camera has an MSRP of $299.99. The new mounting options include the Jaws: Flex Clamp allowing you to connect the camera to irregular shapes and thin objects. The camera can also be mounted to the new child sized chest harness for a new head strap with a QuickClip.
SOURCE: GoPro