GoPro HERO7 Revealed: Three Models, All Simple, Social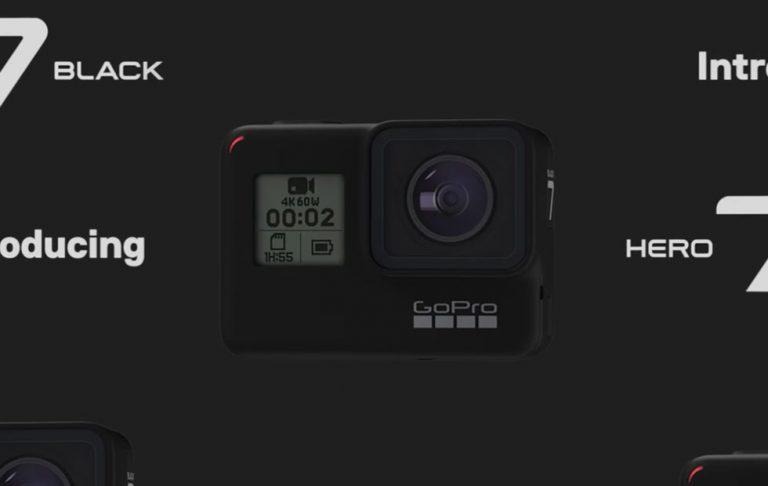 Three GoPro HERO7 cameras were revealed this morning by the go-anywhere action camera brand. There's the GoPro HERO7 Black, Silver, and White to choose from, each of these coming with their own set of specifications, features, and price levels. GoPro upgraded the lot, but their emphasis this round or releases is on simplicity. They're trying to do what works and make what works simple to understand – and subsequently buy.
GoPro decided they needed to make their proposition simple. They've released three cameras, each with the features of the camera before it, from White to Silver to Black. The Black model has all the "bells and whistles" according to GoPro, while the lesser models have fewer abilities but cost significant fewer dollars to purchase and own.
GoPro HERO7 Black
The most amazing of the three, the HERO7 Black, has a 12-megapixel camera sensor with the ability to capture 4K video at 60-frames per second. This camera can capture 8x slow-motion video (1080p 240fps), HDR media, and it's able to function using voice control. This camera is waterproof up to 33ft (10m), has built-in GPS, and it has touch screen controls.
The HERO7 Black has "HyperSmooth" technology under the hood, and it's able to live stream content to the web. You'll need to be connected to your phone to gain internet access, and you'll do so using the GoPro app. This app allows you to stream to Facebook or RTMP (Real-Time Messaging Protocol) which, in turn, can be pushed to YouTube (also live).
This camera has SuperPhoto tech, described by GoPro as "Intelligent scene analyzation for professional-looking photos via automatically applied HDR, Local Tone Mapping and Multi-Frame Noise Reduction." It also has Portrait Mode, which captures "native vertical-capture" which is, essentially, custom-built for for Snapchat and Instagram Stories.
This camera can record speed, distance, elevation, and GPS location. It has a simple "GPS Performance Stickers" feature that can be stuck to any moment in a video for final processing. Basically this is a social media machine, to be entirely blunt about it.
The HERO7 Black will be put on pre-order starting on September 20th, 2018. It'll be on GoPro dot com for pre-order, then it'll be up for sale in physical stores around the world starting on September 27th. ODDLY, it'll be put on sale in stores inside the United States on the 30th of September. The HERO7 Black will cost an approximate $400 USD.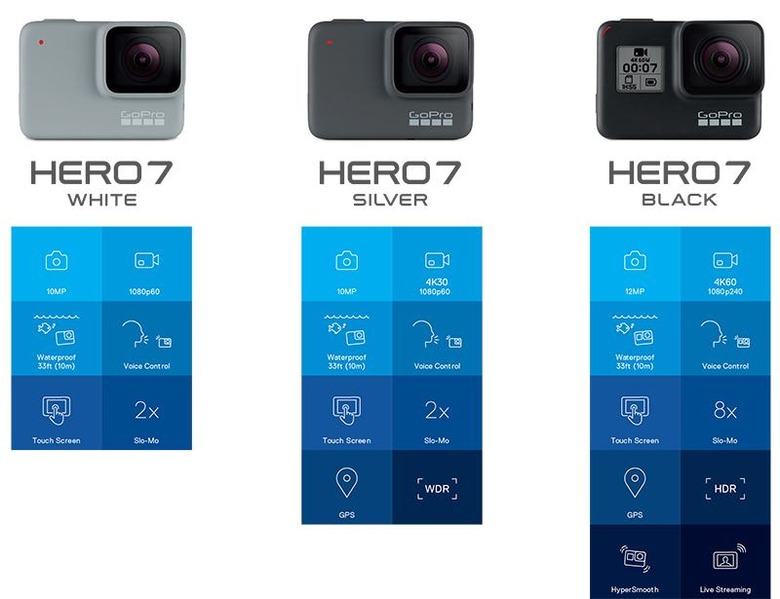 GoPro HERO7 White and Silver
GoPro HERO7 Silver and HERO7 White are very similar to their Black brethren, but they've got fewer features. Missing from the Silver are the "HyperSmooth" tech and Live Streaming abilities. Also both Silver and White have 10MP image sensors instead of 12, and the White has up to 1080p 60fps video, while the Silver has up to 4K 30fps. Both the White and the Silver have "2X slo-mo" instead of the Black's 8X slo-mo.
Silver has WDR instead of HDR – that's Wide Dynamic Range instead of High Dynamic Range. White has neither HDR or WDR. Silver has GPS inside, and White does not. The HERO7 Silver will cost right around $300, and the White will cost approximately $200. Have a peek at the timeline below to learn more about what's come before and what's up ahead!