GoPro adds video Trim + Share to app and cameras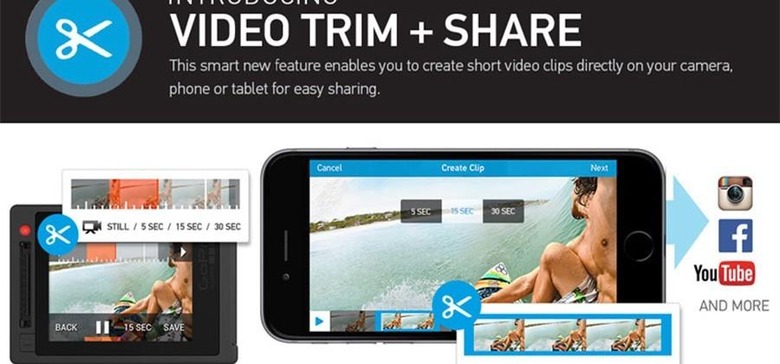 GoPro cameras are everywhere today and a lot of the time what you want to share is only a few seconds long. Unless you happen to be by a computer and have the time to cut a clip out of the video, you end up having to share the entire video and point people to a time marker to see what you want to show them.
GoPro has announced a new feature that will make cutting clips out of your video to share much easier and simpler with the ability to cut clips of 5, 15, or 30 seconds out of your video directly in the app or on the camera. To use the feature, you just need to press the trim icon during playback mode.
On-camera trimming can be done on the HERO4 Black with LCD BacPac, HERO4 Silver, and HERO+ LCD. On these cameras, your trimmed clips are stored back on the memory card along with all your other files to share later.
In-app creation of clips will be supported from all WiFi enabled GoPro cameras. The new feature makes it much easier and faster to share key moments with others without having to dig out a computer for editing.