Google's Tilt Brush turns HTC Vive into a psychedelic art machine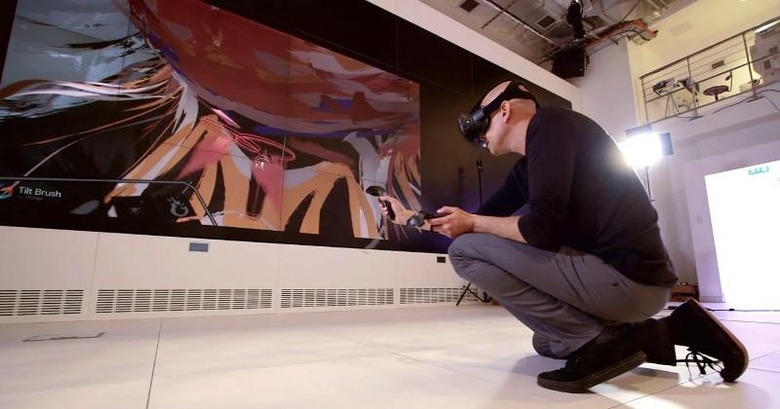 Just like the very first smartphones and tablets, today's virtual reality devices are pretty much intended primarily for content consumption. To actually create most content for it, you'd have to take of the goggles and sit down in front of a computer. There are, of course, a few exceptions, like Tilt Brush from Google. As the name might subtly imply, the virtual reality app turns the HTC Vive's controllers into paint brushes, allowing you to not only create masterpieces in full 3D but use any type of material digitally possible. Like stars.
Tilt Brush isn't exactly new. We first heard about it way back in 2014, back when the VR craze was still just beginning. Interestingly, quite a few details have changed significantly since then. Initially, it seems that the software was meant for the Oculus Rift but now the HTC Vive is the first to get it, thanks to the Steam platform. Also, now it has been assimilated into the Google cube. Even the initial logo has been flipped horizontally, now looking more like a stylized G.
A lot have remained the same, however, like the user interface and, more importantly, the goal. Tilt Brush basically turns the whole space around you into your paint canvas, except, of course, all digital and virtual. It allows users more freedom of expression, untethered by physical limitations. Well, mostly. You'll still have to be careful you don't bump into real world objects while creating your masterpiece. But unlike physical art, you're not limited to what's physically available or safe. You can use fire, stars, smoke, and a whole host of other materials to give shape to your ideas.
Google took Tilt Brush to its "The Lab" in Paris, part of Google's Cultural Institute, to showcase the great works that can be produced when you give artists a VR headset and two controllers that pretty much feel like large paintbrushes. However, anyone with can now also experience it for themselves. Tilt Brush is available on Steam, though it does cost $29.99. In addition to the HTC Vive, of course. No word when or even if the Oculus Rift will also be supported.
SOURCE: Google