Google's Schmidt: "I screwed up" on Facebook competition; Microsoft not a platform player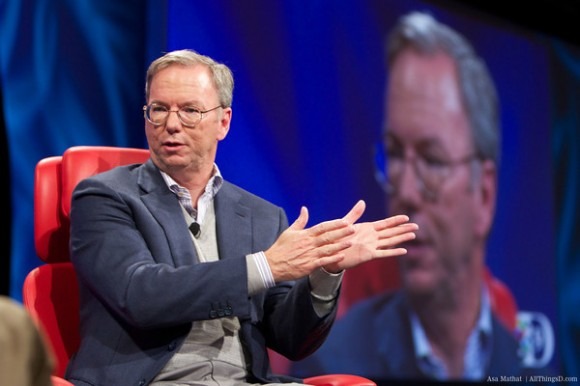 You can usually rely on ex-CEO of Google (and current chairman) Eric Schmidt for a few good soundbites, but the exec's appearance at D9 was jam-packed with them. Schmidt opened by dismissing Microsoft as a player in the current platform war – which he says is now between a "gang of four" consisting Google, Apple, Amazon and Facebook, with PayPal and Twitter potentially hovering outside – describing the software giant as no longer "driving the consumer revolution."As for where Google fits with those three key rivals, Schmidt says the search company has "tried very hard to partner with Facebook" and that the social network has "done a number of things which I admire." He's particularly keen on how Facebook handles user-identity, with the imminent +1 for websites launch described as "not directly" chasing the social network but obviously an attempt to build Google's social strategy. Nonetheless, Schmidt says he takes the blame for Google's slow reaction to online identity, saying he recently dug out a four year old memo saying the company must address the issue but that "I failed to do it." "A CEO should take responsibility" he admits, "I screwed up."
"I'm not sure what to say about Microsoft and Nokia" Schmidt demurred, questioned about the two companies' partnership on Windows Phone, expected to lead to the first Nokia WP7.1 device in Q4 this year. "We would have loved and we would still love to have Nokia be an Android licensee." As Schmidt sees it, one of the main challenges facing Windows Phone and platforms other than Android and iOS is developer investment: "many people do not have a third choice" to build apps beyond the Apple and Google platforms, since simply catering for those two is a considerable amount of work.
Meanwhile, a demo of Google Wallet revealed that, while it will initially demand an Android phone, Schmidt envisages it spreading to other platforms in the future. "Within a few years almost all of us will be using this mechanism" he claims, pointing to the fact that the necessary chip could be embedded in a sticker slapped on the back of any handset.
Questioned on Android and Chrome OS, Schmidt again said that the former is for touch devices and the latter is for keyboard devices like the upcoming Chromebooks. "There's a possible merge point in the future" he admits, but right now they're different devices. Similarly, while developers may be considering dropping specific iOS and Android app programs and instead looking to generic HTML5 apps, Schmidt thinks that would be premature: something many years away from now.
Finally, the Google chairman made a few comments about security, pointing out that Chromebooks would be more internet-protected thanks to the features in the Chrome browser. "You could also use a Mac instead of a PC" to be more virus-resilient, he quipped.