Google's Recycled Mini Wireless Mouse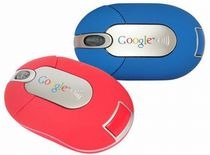 If you need to snag yourself a new optical mouse, you might consider Google's earth friendly ones. Although it is still just a mouse, with nothing fancy added, having one that is environmentally conscience is nice.
The mouse is built out of recycled plastic and even better, the packaging is also made of recycled materials. Which is nice, I have seen a few products that although the product itself is eco-friendly, the packaging defeats the purpose.
The mouse uses two AAA batteries and is smaller to make it more portable. The mouse comes in both blue and red, it is being sold for $19.20.
[via hippyshopper]