Companies that rely heavily on the existence of Internet connections are creating ways to bring the Internet everywhere possible. Facebook has its laser satellite dream and Google has its balloon army. That said, the search giant isn't settling for just one kind of technology. Using the knowledge and assets it acquired from Titan Aerospace, Google also envisions using solar-powered drones. But that's only half the interesting story. The other half involves the use of millimeter waves to deliver Internet 40 times faster than 4G. In other words, 5G.
Aiming for 5G technology will be tricky. Although impressively faster than 4G, the still nascent wireless communication technology has one substantial disadvantage. It has a considerably shorter range than 4G. In fact, a signal broadcast at 28 GHz would fade in just a tenth of the distance regular 4G signals travel. Google's solution is a focused transmission array, but to make it possible, it needs a lot more space, not to mention aerial facilities, than it currently has.
To push the project forward, Google has leased a 15,000 sq. ft. hangar from Virgin Galactic, specifically the so-called "Gateway to Space" terminal. Aside from that, Google had to install its own flight control center in the Spaceflight Operations Center nearby. But wait, there's more! For the past months, Google has put up two communication installations on concrete pads at Spaceport America. These millimeter wave transceivers are accompanied by a repeater tower and other installations spread out all over the Spaceport.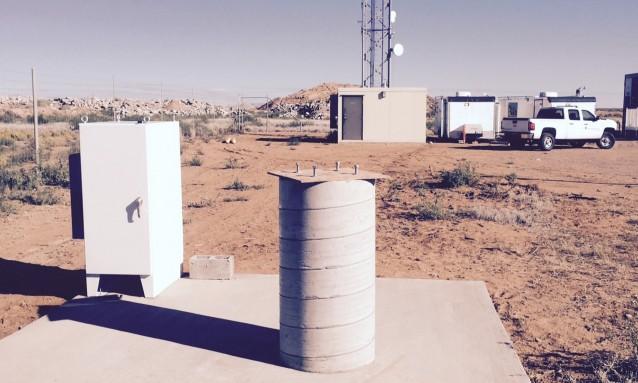 Google has acquired exclusive use of the Spaceport's runways during its tests and might even fly above the White Sands Missile Range nearby. The FCC has allowed the company to conduct its tests until July this year. You could almost say Google has almost all but taken over Spaceport America.
Not that the port minds, considering how much money Google is pouring into it for its use of the facilities and the ground. Its "rent" of the Gateway to Space terminal alone costs Google $1,000 a day. That said, Google doesn't have uninterrupted continuous use of the Spaceport, as Virgin Galactic seems to have some activities planned, including an expected unveiling SpaceShipTwo this month.
SOURCE: The Guardian