Google's plan to encourage you to use your apps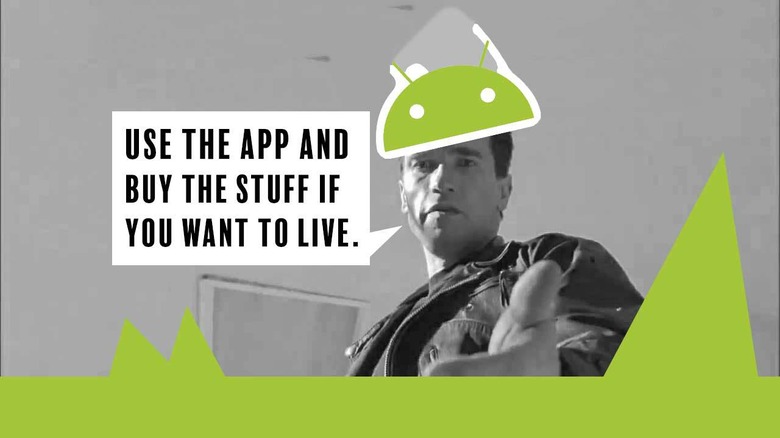 Google's got a new plan to make certain every single game in Android has the ability to turn your tap effort into revenue. They've angled their newest tech for this end as "App campaigns for engagement" and "smart segmentation" features for developer use in Android games. Both of these methods/options are available to developers in the very near future, so today we're talking about what they're doing to draw you in.
Smart segmentation
Google did a little bit of research and found that there are quite a few Android users who do not spend cash on in-app purchases. As such, they've implemented some tech that'll make the most of any app user's time and most likely future actions.
Google calls this feature "smart segmentation," and it's live in Google AdMob (ads in Android apps) for developer use today. With this feature enabled, the ad unit in the app (the game, in this case) will be able to guess whether the user is likely to spend on in-app purchases.
If the user is likely to spend cash in-app, they'll be allowed to play the game without advertisements. If the user is unlikely to spend cash in-app, they'll be served an advertisement in-between pages in the game. In this way, the developer can profit from users in all cases – hopefully, of course.
App campaigns for engagement
Where smart segmentation has to do with making the developer some revenue from users already inside their game or app, "app campaigns for engagement" has the developer spending some cash on ads outside their game or app. This feature works with "bidding in App campaigns for engagement," which has developers set money amounts they're willing to pay to have ads for their app or game appear in various places in other apps or places in Android proper.
SEE TOO: Google Android ads update: Short term good, Long term bad
Places these ads can appear includes: in the Google Search Network, on YouTube, AdMob, and in the Google Display Network. The Google Display Network includes ad units on any website running AdSense (where applicable), and inside Gmail – at the top tabs in inboxes.
App campaigns for engagement allow the developer to:
• Drive in-app purchases.
• "Encourage customers playing a game to finish the final level."
• Encourage users to return to shopping cards and purchase left items.
• Re-engage users who downloaded an app, but haven't yet opened or used said app.
• Re-engage users who have an app or game but haven't recently used said app or game.
• Promote an in-app event or in-app product sale.
As such, you the user will likely see more "reminders" of various subjects related to apps you already have downloaded, very soon. Google would like nothing more than for you to actually open, use, and engage with the apps you've already downloaded – imagine that! Google will be talking about these subjects a whole lot more at GDC 2019 – so stay tuned for deeper details.