Google Zeitgeist 2011 details top searches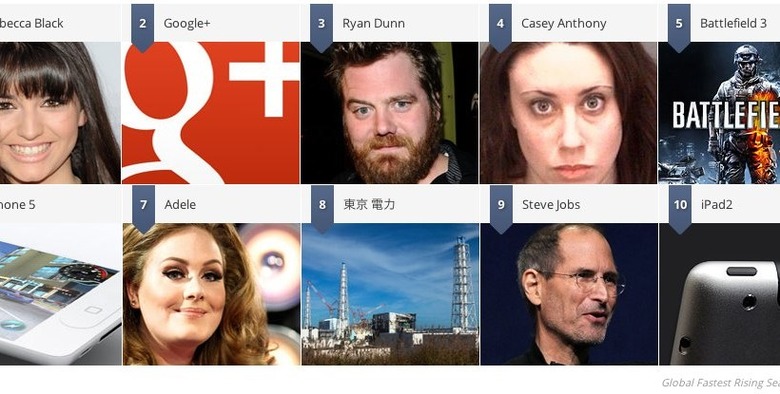 Rebecca Black, Steve Jobs, Adele and the iPhone 5: not a group you might expect to necessarily find together, but they're all among the top ten in Google's Zeitgeist 2011 roundup of how the world searched. Each year the search giant tots up the most frequently searched-for topics in the hope that it might give some insight into the collective consciousness: we can only assume 2011 was dominated by iOS-lovers desperate for Friday to come around.
In what must be a rather satisfying turn-up for Google, the company's own Google+ social network is number two in the list of fastest rising searches, only behind Rebecca Black of "Friday" fame. Ryan Dunn comes in at number three, Casey Anthony at four and Battlefield 3 at number five. Apple gets two products in the top ten, though only one of them actually went on sale, the iPad 2.
Google has plenty of animated charts showing how entertainment, sports, tech, food & drink and other categories fared over the twelve months, and usefully breaks things down by location if you're suitably stat-obsessed. Alternatively you could sit back and watch the 2011 in Review video below, with the top moments of the past twelve months.