Google Voice In Pre-Launch Euro Testing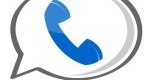 Google has confirmed that its Google Voice service is currently in testing in Europe, though has blamed legislative hurdles as well as engineering issues for not yet publicly launching the VoIP service. European Director of Business Development, Jens Redmer, announced the dogfooding at the European Pirate Summit event in Cologne, Germany today, TNW reports, saying that he himself was trialling the service and was making particular use of the voicemail transcription.
That implies that transcription will indeed be present when Google Voice launches in Europe; however, other features are still unclear. In the US the service offers call screening and cut-price international calling, as well as free calls to US and Canadian numbers (at least until the end of 2011, though Google has already extended the offer at least once). Google Voice allows users to register multiple existing phone numbers – such as their home landline, cellphone and office – and then have all ring with an incoming call.
Unfortunately, would-be European users have been forced to watch from the sidelines as their US counterparts enjoy the free service. That's set to change, Redmer insists, saying Google is taking "concrete action" to launch Google Voice outside of the US. Unfortunately he can't put an exact date on when that will happen.