Google Voice Added To Takeout Service Via Data Liberation Front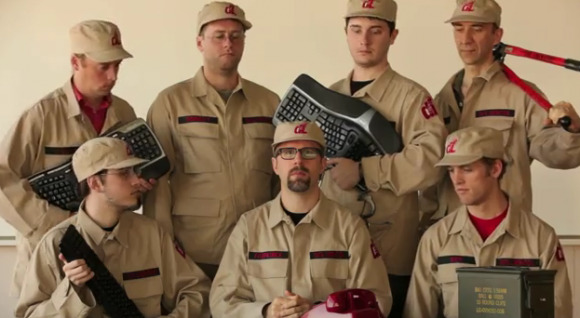 Today marks the first time that Google Voice data is available for download by you via Google Takeout, this adding to the ever-expanding ranks of Google-run services whose data you the users have contributed to on Google Takeout, a service which allows you keep that data for your own. In an internet-only ad spot, a group of Data Liberation Front users sit in a group and cycle through several different physical carriers of data, these being symbolic of the data you're about to have access to on Google Takeout.
The types of data you're going to be able to have access to now includes call history, voicemail messages, greetings, call recordings, and more. You'll be getting your voicemail messages and greetings exported to you in MP3 format. You'll be getting your text messages as microformatted html. You'll be getting your forwarding phone numbers as a vcard. Simple and excellent!
What you're now able to download from Google Takeout of course depends on what services you use on Google, but could potentially include all of your +1s, Buzz data, Contacts and Circles from Google+, Picasa Web Albums, Profile, Stream, and of course now your Voice data as well. All of this is as easy as tapping a button at google.com/takeout – you'll likely be surprised at all the awesome stuff you've accrued over the vast expanse of time you've been using the services on the list. Have a look at some previous Google Takeout videos below and be amazed:
Warning – turn your audio DOWN before you play.
Data. Data. Beta.