Google Ventures-backed Kibits brings "Collaborate" for mobile teamwork

This week the team at Kibits have launched "Collaborate.com", a full mobile and web browser-based environment for teamwork, aiming to bring together groups of associates that aren't always working in the same zip code. This platform works at launch on iPhone, iPod touch, Android, and inside web browsers and integrates the content of services such as Box, Dropbox, Evernote, Google Drive, and Apple's iCloud in a single workroom environment, and they're launching this week.
As a collective of users of multiple digital storage and media hosting services here at SlashGear, it seems like Collaborate is bringing a workspace that'll get busy with the content we're tossing around daily. Every major cloud storage and note-taking brand appears to be ready to be accessed out of the box. What makes such a service so appealing is not just that these services are all integrated, but that they're all accessible on several platforms through the one Collaborate interface – in app form or through the web.
Inside Collaborate, a collection of Collaborate Rooms are to be found. Each of these Collaborate Room environments, users can share and access documents, tasks, notes, links, locations, photos, videos, comments, ratings, chat, and connections between team-members. The whole system is secured by 256-bit SSL network encryption and works with notifications and alerts in iOS and Android as well.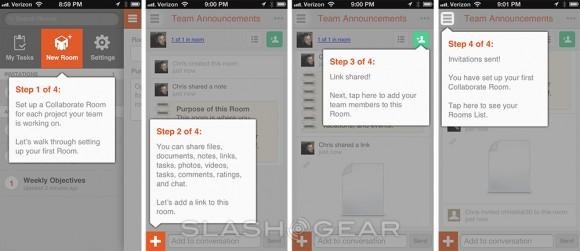 This ecosystem for Collaborate was built for mobile starting from the ground up, and starting with iOS. From there the developers behind this project went to Android, then moved on to their web browser interface. Collaborate is also planning on launching additional platform support later this year – but at the moment they'll only tell of the current launch trio.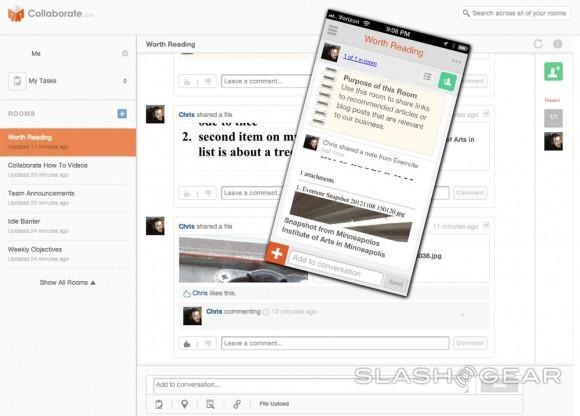 All three user interfaces will be launching this week at once, as will the pay model for groups of more than a few that wish to jump in on Collaborate head-first. Collaborate will be working for free for the first five users on a single team – after that, tiered pricing starts at $9.99 per month. Each larger tier adds additional storage capacity, behind-the-scenes support, and unique features.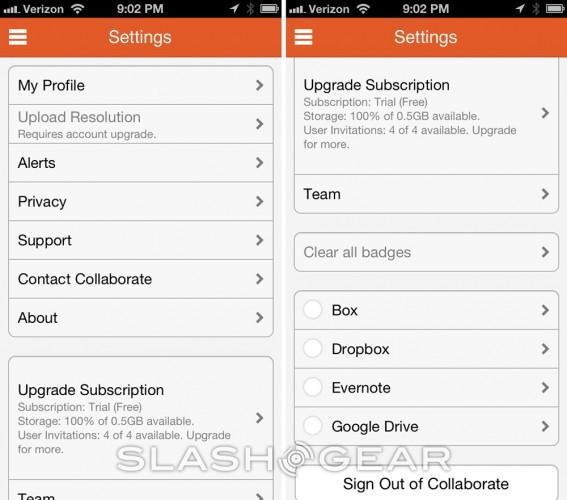 One of the more prevalent services like Collaborate already on the market is the teamwork system called Podio. This system also works in Android, iOS, and in a web browser, and can access files from a variety of 3rd party systems. Both services have free and pay-based tiers of access as well.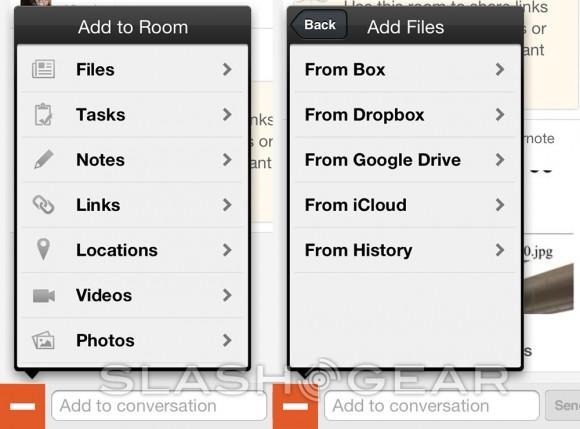 Like Collaborate, Podio is free to use for teams of up to 5 users. After that, service starts a $9 per user per month, this service adding on Access Rights & Control – there's also a Podio Business tier that adds "Personalized Training & Support." Podio also works with SkyDrive, Dropbox, Google Drive, ShareFile, Box, Evernote, SugarSync, YouSendIt, and Ubuntu One – just incase you're thinking about needing to access any of those bits and pieces.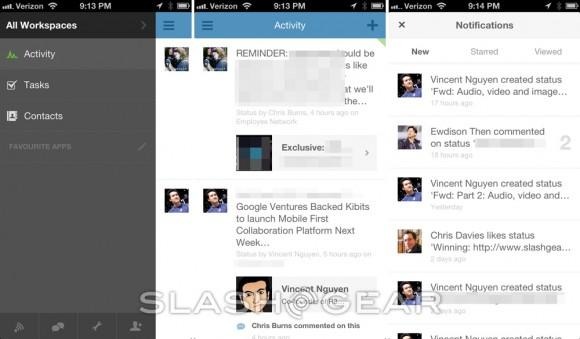 Above: Podio on the iPhone (all other screens come from Collaborate)
Both Podio and Collaborate have a "Tasks" system where users can assign, attach fellow users, and interact with their own task list, checking them off as "done" when they've completed them. Podio has a sort of Instant Chat feature that Collaborate doesn't have at launch, and also works with email-to-update for easy pushing of email content to a Podio workspace.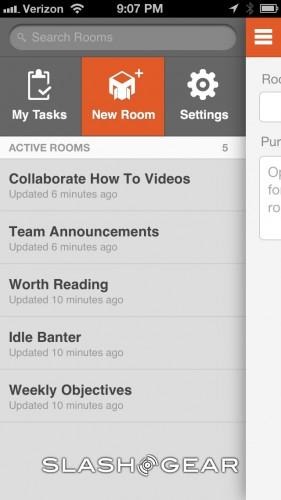 One of the biggest factors that'll play a role in a company or friendly team choosing Collaborate or Podio, one over the other, is each brand's learning curve. While teams that've been using Podio for some time now might opt to stick with the system they already know, it may end up being that Collaborate starts to take some of Podio's potential business in the near future due to their concentration on intuitiveness in each of their user interfaces. See the image above this paragraph? That's the first screen you see when you open Collaborate from zero. So simple and to-the-point you'll think you've been there before.