Google TV 2.0 launched with Apps; New hardware promised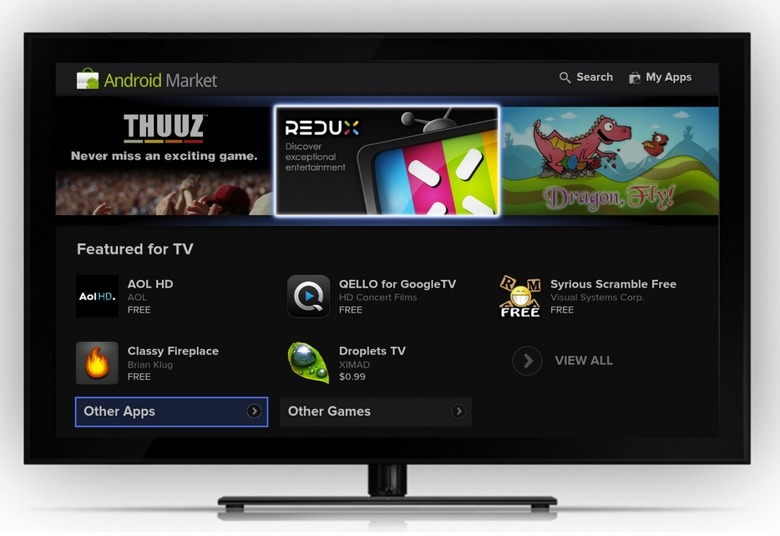 Google has officially launched its Google TV 2.0 update, promising that those with Sony Google TV hardware should see the upgrade early next week and those with Logitech's Revue "shortly thereafter." The new version, now based on Android 3.1 Honeycomb, brings  a simplified interface to the smart TV platform, along with boosted search and YouTube playback, in addition to the long-awaited Android Market access, albeit with some caveats. Meanwhile, Google also says it has new hardware news incoming, including broader chipset support.
Those expecting the surfeit of apps available on their Android smartphone will be disappointed, given the limitations of the sort of hardware Google TV boxes are hooked up to. Those demanding telephony, a touchscreen or GPS won't show up, and so there will be many omissions; however, Google says 50 developers have prepared titles to seed the store from the offset, and the tools to port existing apps – or, indeed, code new ones specifically for smart TV functionality – are freely available.
Search now queries Live TV, Netflix, YouTube and HBO GO, among other sources, but there's also a new TV & Movies app that shows a choice of 80,000 TV shows and films from cable or satellite, Netflix, Amazon, YouTube and other sources. YouTube, meanwhile, is more closely integrated with the new UI, and there's extra recommendations support.
As for the hardware, Google says that "in the coming months" it will have news on new Google TV devices from a broader range of manufacturers than currently support the platform. That will also include extra chipset support, something which has been well rumored in the past. We're expecting to see ARM processors added to the roster, which will hopefully allow for cheaper, more energy efficient set-top boxes.