Google Transparency Report expands: malware and phishing on tap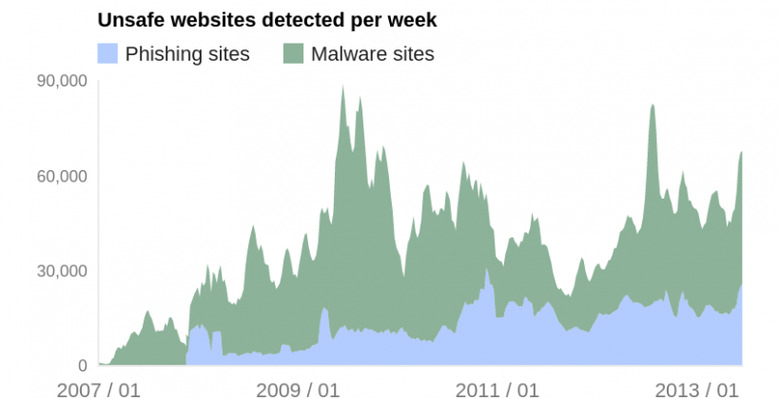 The team at Google's Transparency department have brought on a new level of threat reporting – massive amounts of phishing and malware-infected sites from across the web. This newest Google Transparency Report is being laid bare this week with a cool 67,909 compromised sites tracked by the company in mid-June, showing an interesting cross-section of ups and downs over the past six years.
The report unveiled for the first time this week shows Google having tracked this set of criteria since early 2007. It was back then that malware sites began to appear in bulk. It wasn't just that they never appeared before then, mind you, it's just then that Google began to really start paying attention to them in this specific way.
Meanwhile tracking of phishing-specific sites began inside the year 2008, and has appeared to be steadily growing ever since. Malware sites, on the other hand, had a rather significant spoke back between 2009 and 2010, then another slightly more miniature spike in 2012.
It would appear that between 2011 and 2013, the lowest number of malware sites detected since 2008 appeared, and has since never really fallen significantly again. With Google's current number of infected sites at just above 65k – through just the sites they've found – this report is more than just a tip to the public: the internet is certainly not just a walk in the park.
You can find this transparency report through Google's Transparency Report portal, there finding a collection of numbers and statistics from the company for Google services, government and copyright-holding removal requests galore, and government information requests on citizens using Google apps and search.
VIA Google+