Google Translate app's newest update opens your eyes to 27 languages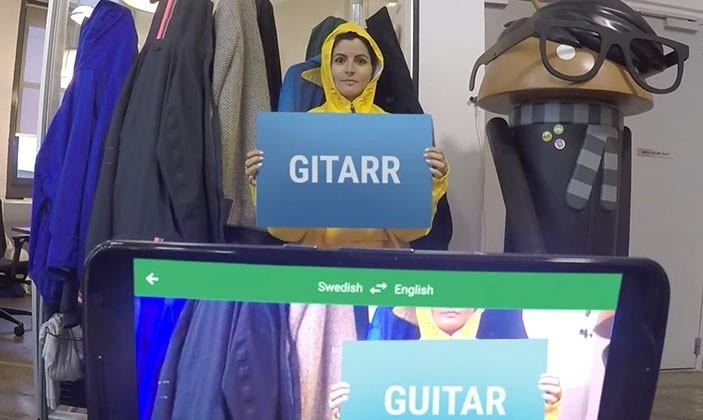 Google has updated their "Google Translate" app to work with 20 new languages, giving their app a cool 27 languages to translate in all. This app works with text, with voice, and most recently with smartphone cameras, allowing users to hold their smartphone up to a sign with a word they don't understand, having it translated, visually, before their eyes. This Google Translate app update is available for Android devices as of this morning, and will be appearing for iPhone and iPad devices some time soon.
This update is being celebrated by the following video – an instant translation of the song "La Bamba" in a variety of languages. The song itself is a Mexican folk song most famously adapted by the man you hear singing it here – Ritchie Valens. While the main bit of the song is translated from Spanish, Google demonstrates translations to and from English as well as a few other languages during the bridge and other guitar bits.
This update to Google Translate brings the following languages in full effect: English, Bulgarian, Catalan, Croatian, Czech, Danish, Dutch, Filipino, Finnish, Hungarian, Indonesian, Lithuanian, Norwegian, Polish, Romanian, Slovak, Swedish, Turkish, and Ukrainian.
You can update your Google Translate app for Android as of this morning.
One-way translations are also available in a few more languages – English to Hindi and English to Thai, for example. There's also a total of 37 languages available for the app's "Camera Mode" snap translation.
This update will be bringing some updates to natural, near-instant voice translation as well. This update brings "improvements" to the app that allow it to be "even faster and more natural on slow networks." This app requires internet, of course, as it seeks out translations via Google's servers of material on the web – unless you download language packs.
If you'd like to assist Google in translating additional languages, you can head to their relatively new Google Translate community, helping the whole world understand every language in an instant.
VIA: Google Blog