Google Tests its Music Muscle with a blog called Magnifier

It is with an online publication by the name of Magnifier that Google and their currently titled "Music Beta" program will test their strength as a music promoter, this Blogspot blog one where Google will submit to you some choices for what they see as great music every day of the year. Obviously this blog will also serve as one of the places Google's "music" app will be spoken about here and there, but for the most part it appears that Google giving away free music each and every day of the week should be doing the trick just fine.
Magnifier connects directly with your Music Beta account, you then able to click a single button on the specified posts to add a couple of brand new tracks to your own library. Each of these tracks will be free and MORE than likely the band playing them will have more tracks available for sale soon afterward. This blog appears to be set to be fairly basic in its scope, the free music being the bulk of the intent here.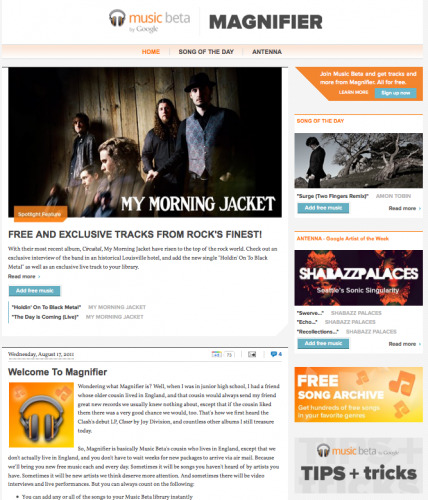 There are two categories on this publication at the moment, one being Antenna, aka the Antenna Google Artist of the Week, this having an artist showing off several tracks that you can download. The other category is Song of the Day. This song will be available for download and featured for a single day while the Antenna Google Artist of the week's tracks will be featured all week. There's also a free song archive as well as a Tips + Tricks page for Music Beta on this site as well. Check it out!