Google Street View Japan reveals fabulous Cherry Blossom Edition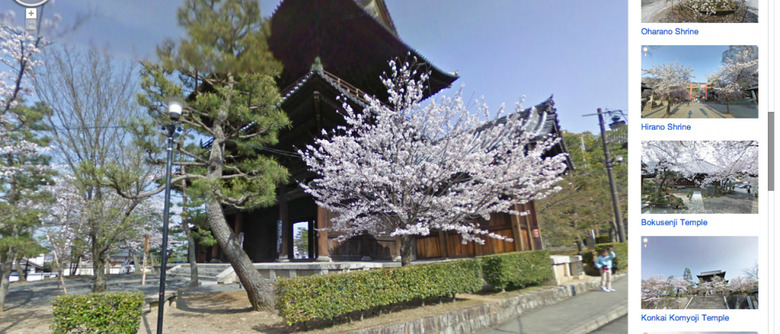 So you'd like to do one of two things: travel through Japan during the season when the Cherry Blossoms blast, or have a lovely time glancing upon them from afar – Google has you covered either way! With Google's Street View, you're able to see where you're going before you get there – if you use it with Google Maps. If on the other hand you'd like to explore the world through Google's special camera cars, clicking through the streets of residential and rural areas around the globe, you can do that too! A fantastic example of where Google is using Street View to the utmost visual advantage is in their 2012 guide for Japan's Cherry Blossom Season.
This season, for those of you unaware, has the Cherry Blossom trees in many lovely locations across the country showing their leaves to the world. These leaves are a fantastic light pink and have the power to enchant even the most stern onlooker. Google has worked with the Japan Tourism Agency as well as the Japan National Tourism Organization to find and set in guide form all of the most popular tourist spots for foreign travelers, listing them one by one for you to view!
Enter this guide through the main Cherry Blossom Guide portal or through one of the eight distinct areas recommended by Google Japan:
GinzaAsakusaAkihabaraTsukjiKamakuraFuji spotsKyotoOsaka
In addition to the list inside this new visual travel guide, business owners across the country have worked with Google through their Business Photos pilot program so you can get views of 339 total locations, including 26 fabulous cherry blossom viewing spots up and down the country. These spots very often have 360 degree panoramic views of the blossoms in bloom and offer you a guide of places to visit in real life as well
Senior Product Marketing Manager of Google Japan Kaori Negoro wants you all the know that you're invited to visit the country this lovely season virtually or in person: "We encourage you to view the guide if you are traveling to Japan in the next few months or would like to virtually experience a few of Japan's most beautiful sites. So grab some sake and some friends — it's officially sakura season!"