Google Stock splits 2-for-1 to holders glee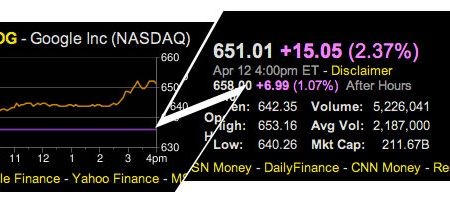 Google's big announcement during its first quarter investors call included no less than a stock split which gave stock holders 1 new stock per each stock they already owned, these stocks being non-voting stocks. As Larry Page reminded investors today, Google was once a privately owned startup turned large public company in a relatively short time, this a lifetime pride of both Page and Serge, the two main founders of the network – this change hopefully being the next bit step in the evolution of its publicity. He continued by noting that Google has found that "success is more likely if you concentrate on the long term," encapsulating the idea of the long-term split.
This dividend will be, as Senior Vice President of Corporate Development & Chief Legal Officer noted, giving Class C stocks to current owners of stocks. No new voting rights will be included in this change, and class A and B stocks will not be changed. Google's Eric, Larry, and Serge will be subject to a new Transfer restriction agreement which has their class A and B stocks stapled down, in effect, if they plan on trading in the future, with special restrictions affecting their trading as they are in effect the most important holders of stock at this time as they control the majority of the voting power of course.
Google's Patrick Pichette added a bit of information on what the Google group as a whole felt about the momentum they felt they had and have now – a great amount, especially due to the great growth the company has had in this first quarter. Have a peek at the first results from this call in the post Google Earnings hit $10.65 billion in Q1 and reflect on the cash!