Google Stock Cap up $20 BILLION Amid G+ Opening

The market cap for Google's GOOG-tagged stock grew $20 BILLION in the past week – can you guess why? Investors have certainly thrown in their 2 cents into the believing in Google+ party the past few days, starting on June 27th, the stock closed at $482.80 – on July 7th, the stock has reached $546.60 – that's a $20.6 billion gain to the market cap (with 322.25 million hares outstanding), as Techcrunch notes. There was also a bit of a dip on Friday, possibly pointing toward a peak the day before.
The big dip you see before the giant upturn this past week comes from a Morgan Stanley downgrade which hurt GOOG massively, cutting the stock from a recent high of $645 down to $600. Read more about that at Forbes where they mention the Morgan Stanley group having noted that Google's growth investments in new products would not pay off. Jokes on them, perhaps? I'm sure investors are having a bit better day today than they were a little over a week ago.
This comes amid news that Ancestry.com founder Paul Allen has run some numbers which include US Census Bureau data on US surnames, taking common names, running how many people there are with that name on Google+ on day, then checking again a different day. What Paul Allen has found is that, based on his findings, there's already more than 4.5 million people signed up with Google+.
A rather different number altogether can be gathered with what may be a more exacting study as provided by a commenter on the same thread Paul Allen produced. Atul Arora being the commenter, AntDeRosa and/or SupersetGreg being the source of the code. This study can be done by anyone who plugs in the following and searches with Google's basic search engine: inurl:plus.google.com/*about site:plus.google.com. What this pulls up is a single result for what appears to be every single profile on G+. The results here show "about 6,460,000" to be the real number – you've got to go beyond the first page and look below the search bar to see this number.
Who do you trust?
Furthermore, on the value of similar groups: June 13th saw a Facebook IPO ovvering possibly hitting $100 Billion, though Forbes puts the value at $84 billion with 2.4 billion shares still outstanding (these numbers coming from a SharesPost email which was sent out on June the 23rd, two weeks after the same site valued Facebook at $82.5 billion.) A may 9th report on the value of Apple's stocks puts them in at a grand total of $153 billion, while Twitter comes in at $8 billion according to 24/7 Wall Street on the 8th of July. Google meanwhile is sitting right this moment at a market cap of $171.43 billion.
Finally, have a look below at some coverable groups as listed today at Google's own stock listings page: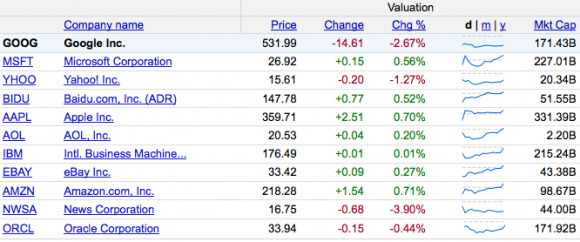 Looks good? Looks good.