Google Seems To Be Starting Voice And Hangouts Merger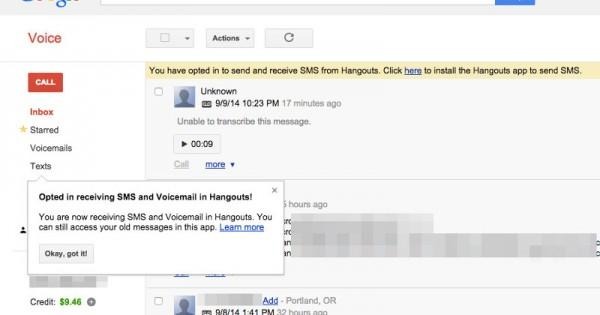 Google might have just started the ball rolling that would signal the end of its voice call and voicemail service. Some Google Hangouts users have reported being prompted in both Android and Gmail to switch over from Google Voice to Hangouts, a transition that would formally mark the end of another Google product.
The writing has long been on the wall so it was really only a question of "when?". Google has been consolidating its messaging features under a single Hangouts banner, freeing it, at least by association, from being tied and limited to the still uncertain Google+. Google started adding more features to Hangouts last year, imbibing it with the power to sends SMS in addition to regular instant messages, eventually displacing the default Android Messaging app, at least on Nexus devices. That further reinforced beliefs that Google Voice would be the next to get the axe, and that might be happening really soon.
Some users have reported getting a prompt in the Hangouts app on Android, asking them if they'd like to migrate Googlve Voice to Hangouts now, or wait for another time. The same prompt, of course in a different visual style, appeared to some users while viewing Gmail, which, when accepted, will inform them that they have opted to receive SMS and voicemail in Hangouts.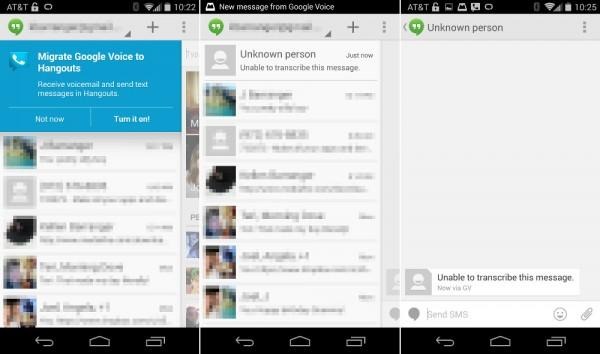 Unfortunately, it seems that the system is still under heavy construction, as a message supposedly coming from Google Voice showed up as an "Unknown person" or "GV", for Google Voice, in Hangouts. But if that wasn't worrying enough, it seems that opting into this switch will prevent you from actually replying to anyone still on Google Voice, an issue that was present when Hangouts first rolled out with SMS features.
Suffice it to say, the end of Google Voice seems to be just around the corner. But unless you want to risk alienating yourself from your Google Voice contacts just for the sake of being an early adopter, best be careful what you reply when that prompt appears on your screen as well.
VIA: Droid Life