Google Search popular times feature gets a boost for holiday shopping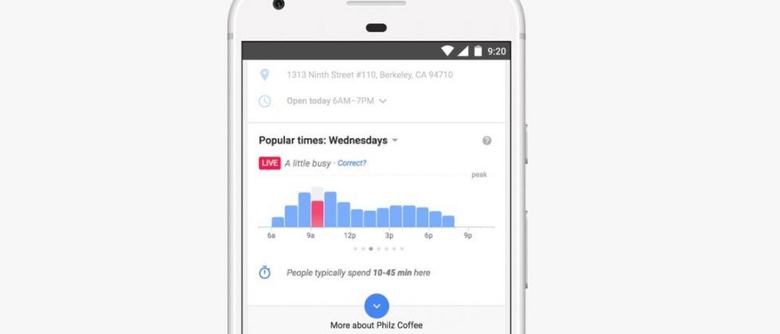 Google Search and Maps are once again adding a few new features to help you survive the holiday season. While the first round of updates centered around making holiday travel easier, today's batch want to help you spend as little time as possible shopping. Google is bolstering the functionality of the "popular times" feature in Google Search and Maps to achieve this.
If you've used Google Search or Maps to look up businesses recently, you may have noticed the popular times feature in action. It tells you how busy the business you're looking at is throughout the day, allowing you to plan your visit around avoiding crowds. With this new update to Google Maps, the popular times mechanic will work in real time, letting you know how busy a location is at the moment you search.
This, as many of you will know, could be very handy once we move past Thanksgiving. Google is pairing this live feed for popular times with a new feature that tells you how long people have typically been spending at stores when they visit. This, as Google says, can help you "plan your itinerary to the minute," when you're out doing your holiday shopping.
Finally, Google is adding the ability to see store hours for different departments. Sometimes, you'll come upon a store where certain departments have hours that differ from the store itself. With this update to Search and Maps, Google is attempting to let you know the hours of those individual departments alongside the hours for the store, making sure your trip wasn't wasted.
All in all, this sounds like a solid group of new features for Search and Maps. That's especially true as we enter the hectic shopping season, during which most stores will be constantly busy until we're into 2017. These features are going live today across Google Search and Maps, so have a look for yourself.
SOURCE: Google