Google "Save to Drive" button wants to bypass your desktop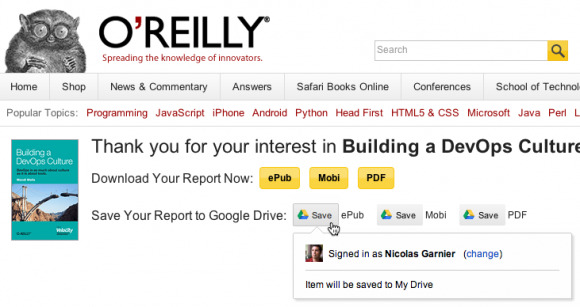 Google has further tightened the integration between browser and cloud, launching a new "Save to Drive" button that allows files to be sent straight to Google Drive from websites, assuming they've enabled the functionality. The new feature avoids the hassle of downloading a file to a local computer and then uploading it again to the user's Drive storage, particularly handy if you're using a public machine.
Actually baking the functionality into an existing site is straightforward, with it requiring the addition of just a couple of lines of HTML. After that, a new "Save to Drive" option will show up, with the choice of adding multiple buttons for different downloads on each page using the JavaScript API.
Google has already been working with a number of sites – including O'Reilly, which will allow ebooks to be saved straight to Google Drive storage, and Delta Dental, which will make dental records and statements easily shuffled over to the cloud – to get the feature up and running, but now has made it publicly available. There's more technical documentation if you want to dig through the minutiae.
Of course, some Drive users have been sharing files with the online storage service from their browser already, thanks to various plugins that are already available for browsers like Chrome. These extensions generally add a right-click context menu option, to save links and media, such as photos and document downloads.
Ironing out the hassles of getting files from one place to another is a big issue for cloud provider services, given the number of options for free storage space users have to choose between. The hope, of course, is that the free capacity will quickly be used up, and free subscribers turned into paying ones. Google offers 100GB for $4.99 per month – shared between Google Drive and Google+ photo galleries, among other things – or 200GB for $9.99 per month, with higher-tier packages also available.