Google retail stores coming to a place near you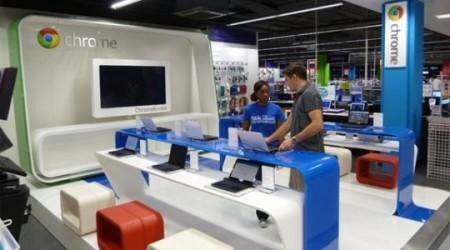 Rumor has it that Google will be opening up its own retail stores by the end of this year. Google will be following both Apple and Samsung by giving consumers a place where they can get a hands-on feel for its products. You can get a feel for the latest Nexus device or Chromebook before you jump the gun and buy them. Google is hoping that by offering this hands-on experience, it would be able to get more consumers to purchase its products, and hopefully get more demand for its upcoming products.
Considering that this is Google, we can expect their retail stores to be quite the spectacle. The store will probably be overly colorful and lively, which would be perfect for attracting the attention of curious customers. Inside you will be greeted by well-trained Google employees who will act as your in-person Google search engine (for all things Google).
The rumors state that Google came up with the idea of launching its own retail stores because it needed a way to give consumers a hands-on feel for their new Project Glass product. Google figured that consumers are more likely to purchase the Project Glass product when they get to try it out first-hand to see if its worth the hype. I mean, the Google name may be enough to sell Project Glass to the tech community, but it may not be convincing enough for the average consumer.
We hope that the Google retail stores become a reality, because it would be great to be able to try out products like the Nexus 4, or the Nexus 10 before we hand all of our money over to Google. Also, if Google keeps the prices of their products the same as the prices in the Play store, we can expect the Google retail store to be a big hit.
[via Android Community]