Google readying Android iMessage rival tip insiders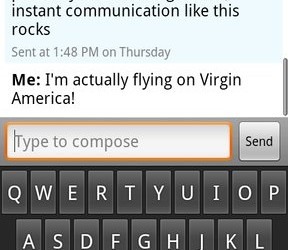 Google is reportedly preparing its own BlackBerry Messenger rival, as Apple readies iMessage for launch with iOS 5. Details on the service are unclear at present, with sources simply telling the WSJ that Google "has also recently worked on a messaging application" but sharing no further details on what, exactly, that app might look like.
Still, given Android already has Google Talk, the company's IM client that allows for cross-communication between Android handsets and tablets, GMail in the browser and the PC GTalk app, it's not hard to imagine a boosted version updated to better challenge iMessage and BBM. Currently GTalk supports text-based conversations, but it would require photo and perhaps video/audio support, along with group chat, if it wanted to legitimately counter BBM.
That's no great step, however, and of course Google also has live two-way video chat support in GTalk as well (as long as you have a very recent device). That, with the established presence on the desktop and Google's investment in browser-based real-time video calling using WebRTC, could be enough to swing things back into the search giant's favor, even if it makes it to market after BBM and iMessage have already set out their stalls.
[via Android Community]