Google Play gift cards hit Target, GameStop, and RadioShack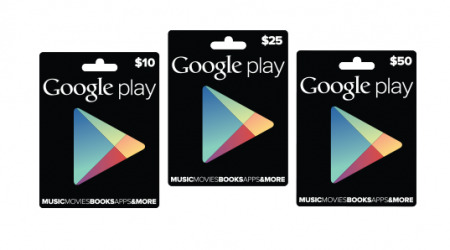 The official Google Play store for digital media such as apps, music, and books, has been given a collection of real-life gift cards. This set of gift cards appears in $10, $25, and $50 denominations, and is able to be used on digital media only – no hardware or accessory purchases here! These gift cards will be available immediately if not soon at RadioShack, Target, and GameStop.
The gift cards you're seeing here are made available by Google for those of you looking to grab your kid, sibling, friend, or associate something simple and relatively free of commitment. Just like the iTunes gift cards that've been appearing in holiday gift cards for years now, the Google Play gift card line is set to be a giant force in holiday gift giving. In other words, Apple will be making a double-effort from now on to make sure they've got rack space above Google's new offering.
These gift cards are able to purchase songs, movies, and TV shows instantly from the Google Play store online or through your Android-toting device. You can also purchase Android apps as well as eBooks galore from Google's vast library of titles. These cards work to not only rent movies and TV shows, but to buy them as well – but purchases of TV shows and movies only work on Android 4.1 Jelly Bean devices so far – so watch out for that!
These cards are set to appear at the three retailers listed soon – they may already be in stores if you're lucky! Google adds, once again, that "Google Play gift cards cannot be redeemed for Android app subscriptions, magazine subscriptions, or hardware and accessory purchases. Refer to the Google Play Gift Card Terms and Conditions for more details. Content subject to availability by country." Remember that bit!
[via Google]