Google Play edition program dead as HTC One M8 departs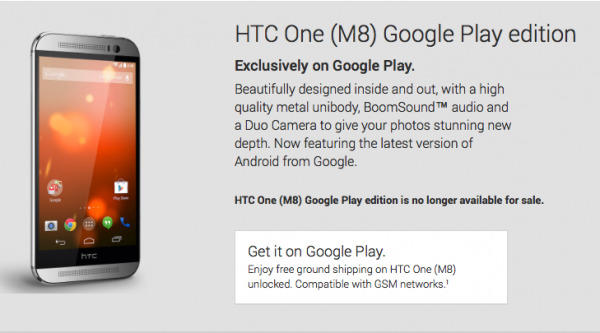 Two weeks ago, we pondered the death of Google's 'Play edition' program. At the time, Google Play edition devices had slowly been slipping away from the Play Store, with only the HTC One M8 sticking around. Now, Google has stopped selling that device as well. The Play Store no longer lists any Google Play edition devices, leaving the program itself without a single handset. For fans of the Google Play edition line, it's sad day, and one that likely marks the end to a more vanilla Android on non-Nexus devices from the OEM themselves.
As we find the Play Store device page, only Nexus smartphones and tablet exist. There is no redirect page for Google Play edition handsets, though the page still exists, readily available via Search.
On the Google Play edition device page, you'll find the Moto G and HTC One M8. Both are listed as unavailable via Google Play.
After convincing many Android OEMs to cannonball into the Google Play edition pool, Google slowly allowed them to get out. One by one, devices would slip away from Google Play, never to be heard from again. Perhaps the most telling sign that Google Play edition handsets were doomed was the Galaxy S5. Unlike the Galaxy S4 ahead of it, the S5 had no Google Play edition option.
Will we see Google Play edition devices again? It's possible — just not likely. If it's a stripped-down Android experience you want, Google's Nexus and Motorola's Moto X are your best bets.
Source: Google