Google Pixelbook revealed with Pixelbook Pen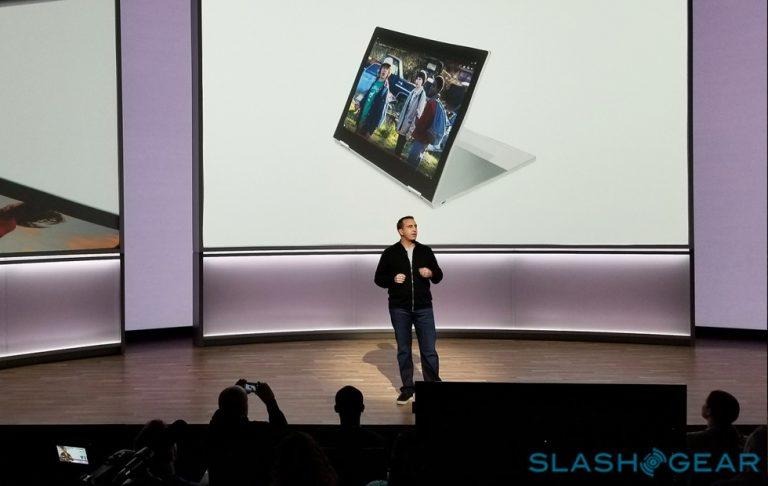 The original Chromebook Pixel was just kicked directly in the pants by a newer, more awesome device called Pixelbook. This name suggests what the device does – it runs Chrome on a Pixel-level device. This device can fold all the way back over itself to become a tablet, or just work like a standard Chromebook – but with a touchscreen, just like the original Chromebook Pixel.
With the Pixelbook, Google presents a device that's ready to roll with Android apps. While previous Chromebooks have had the ability to run some Android apps, this unit is made by Google for Google's apps on a device that's made to use in more ways than one.
This device has the Google Assistant built in, available for the user with a button tap or by saying "OK Google." In tent mode, OK Google works best, while in keyboard mode, the Google Assistant key (in the lower left of the keyboard) will allow the user to type their request. The Pixelbook Pen will enable further access to the Google Assistant.
Circling any part of the display can call upon Google Assistant to answer any and all questions. The Pixelbook Pen works with Wacom technology, with 10ms of latency, 60-degrees of angular awareness, and 2,000+ levels of pressure sensitivity.
This device has a Quad-HD LCD display over 12.3-inches of touchscreen. Google suggests that this is the "first convertible laptop that actually feels natural to use." While quite a few hardware manufacturers out in the wild today might have another thing to say about that statement – we'll see when we get one in for review.
Have a peek at the timeline below as well as the gallery above to learn more about this piece of hardware. The "release and price" article that'll appear below immediately if not soon will have all the rest of the details on... well... release and such.