Google Pixelbook first impressions and Pen hands-on: High End Again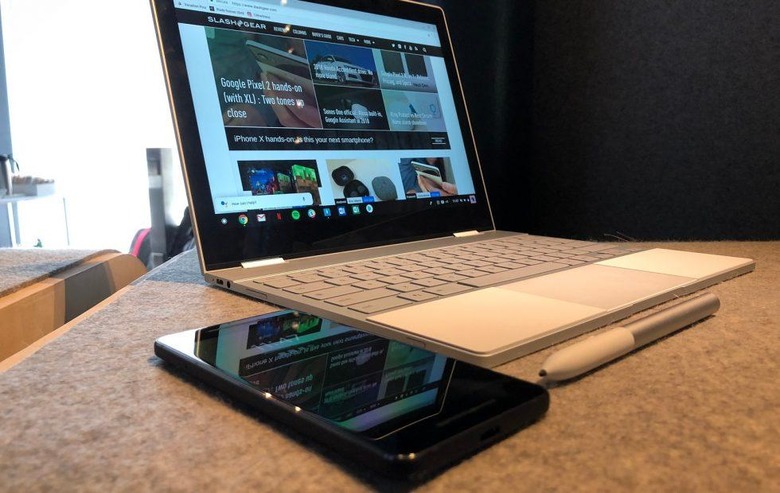 The new most extravagant Chromebook comes from Google, and it's called the Google Pixelbook. Much in the same vein as the Chromebook Pixels that've come before it, this Pixelbook is a high-performance piece of machinery made for Chrome OS. Much like convertible Chromebooks and Windows notebooks that've come before it, this unit can fold down flat and back over itself to become two kinds of stand-up displays or a tablet.
The little we've seen of Google Assistant on this device thus far has been interesting. I've not found using Google Assistant on any other device (besides a phone) to be all that helpful thus far – but with this Chromebook it seems quite natural. Pressing the Google Assistant lets me type in my request, while saying "OK Google" in any other circumstances wakes the machine up to perform tasks aplenty.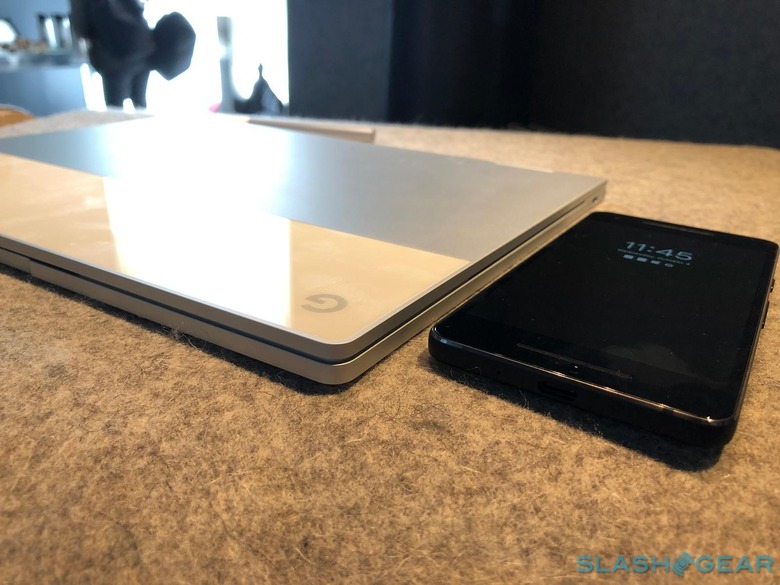 This notebook is every bit the high-end machine that its predecessors were in the Chromebook Pixel lineup. The Pixelbook has an ever-so-slightly smaller display, but the build seems to have evolved in every other positive direction. It's thinner than the Chromebook Pixel, but the Pixelbook feels like it wont bent quite as easily.
The LCD display is a 12.3-inches diagonally and has 2400 x 1600 pixels, making it have 235 pixels per inch. The Chromebook Pixel had a 12.85-inch IPS LCD display with 2560 x 1700 pixels in it, bringing it up to 239 pixels per inch. Honestly I'm not yet able to tell the difference in quality, but we'll see when review time arrives.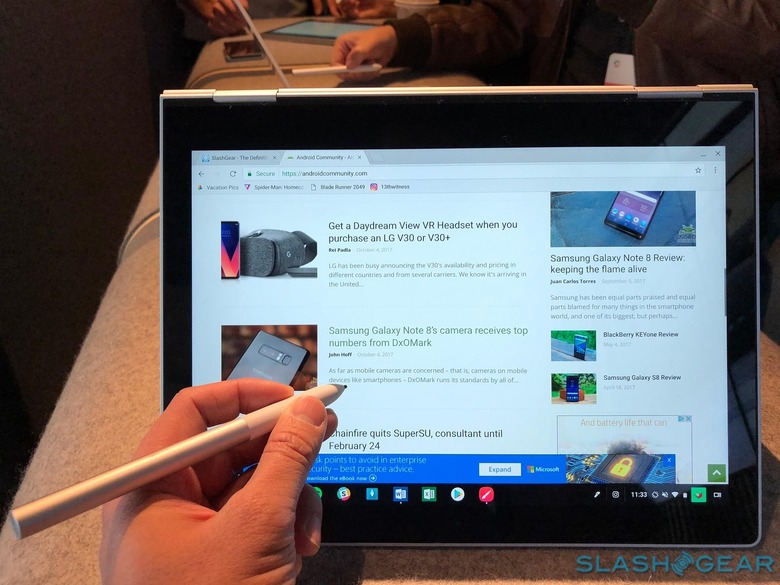 The keyboard feels almost identical to the Chromebook Pixel (that's a good thing) and the touchpad seems to be up-to-par for what we expect from Google's hardware at this point – top notch responsiveness, that is. All of these keys are backlit, as well, as they should be.
This Chromebook is extremely thin, like Pixel 2 thin – at 10.3 mm. It's made primarily of aluminum on its outside, and comes with two USB-C ports as well as a headphone jack and a volume rocker. While we can see two mics on this machine – one near each of the two USB-C ports, Google suggests that there are actually 4 mics in all, as well as a dual speaker system.
Again, it's difficult to judge these things when we're in a loud event hall, but it would seem that the mics are doing their job really well in discerning OK Google from the rabble. Also inside is a TPM Chip, 8 or 16GB RAM, 128 or 256 or 512GB Solid State Drives, and a 7th Gen Intel Core i5 or i7 processor.
We'll be checking this Google Pixelbook out in a full review sooner than later. Incoming with that – close comparisons between the Pixelbook Pen and the Apple Pencil – not to mention Samsung's latest S Pen, and the Microsoft Surface Pen. Until then, have a peek at the timeline below for additional information and stick around as we dive in deep!