Google Pixel XL phone shown in realistic detail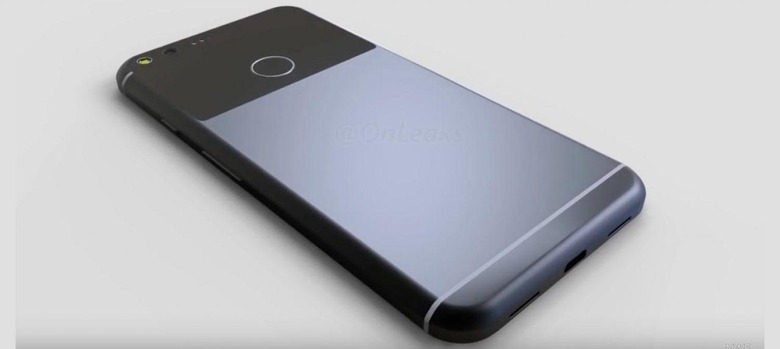 Rumor has it Google will be launching two new smartphones in the near future, the Google Pixel and Pixel XL. The Pixel is codenamed Sailfish, while the Pixel XL is codenamed Marlin; both have been the subject of numerous leaks, including visual ones that portend to show what the handsets will look like. Newest among those visual leaks is a new 3D render of the Pixel XL in particular, supposedly showing what the phone will look like based on a leaked factory CAD.
The video below comes from @OnLeaks; it looks very similar to ones we've seen surface in recent days, and is similar in looks to the Google Pixel leaks, as well. Points of interest include a couple simple speaker grilles on the bottom, a USB-C port between them, as well as vaguely angular edges and an overall highly clean design.
According to leaks thus far, it seems the Pixel XL will be offering the following specs, or something akin to them, though of course none of them are official at this point:
Pixel XL (Marlin)
• Display: 5.5-inch 2K 2560 x 1440 AMOLED
• Processor: Qualcomm Snapdragon 820
• RAM: 4GB (3.7 benchmarked)
• Internal Storage: 32GB, 128GB
• Camera: 12MP back-facing camera with 4K video recording
• Front-Camera: 8-megapixel
• Battery: 3450-mAh
• Connectivity: USB-C, Bluetooth 4.2, Wi-Fi, 4G LTE, 3G
Speculation has it the phones may also have a desktop mode that will be accessible over Chromecast or through USB-C, with the software for that supposedly being called Andromeda (though whether that's an official name or a codename isn't clear).
It's expected Google will take the wraps off the phones early next month at a hardware event in which several other gadgets have been tipped, including a WiFi router. As always, we'll have all the official details available as they go live; until then, check out the SlashGear Android hub for more news!
SOURCE: YouTube