Google Pixel C tipped to be an Android tablet, not Chrome OS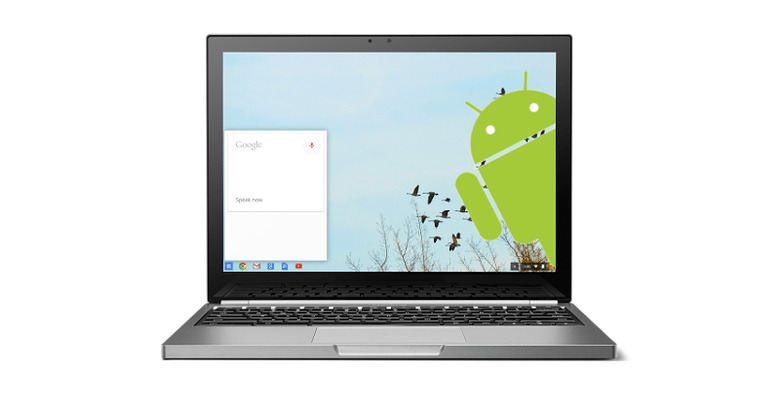 Google's Chromebook Pixel has always been a cut above other Chromebooks. While most of their ilk sport low to mid-range specs, Pixels more often than not bear some of the highest in the market. The next Pixel, named Pixel C, is said to be both the same and yet different, according to insider sources. While it might look like a Chromebook, or half of one, the Pixel C won't be a Chromebook. For one, it will be a tablet. And for another, it will be running Android instead of Chrome OS.
That last part might be a bit of surprise considering who the past two Pixels have been squarely Chrome devices. That is perhaps why Google isn't calling it a Chromebook Pixel C but just a plain Pixel C. Why it still has a "C", which could be mistaken for Chrome, remains a mystery. Considering it will be a tablet, however, it isn't that surprising that Google would opt for a more touch friendly OS to put on it.
Design-wise, the Pixel C is said to still look like a Chromebook Pixel. At least half of a Chromebook Pixel. It is a tablet, after all, so it will look like the display half of a Chromebook, one that measures 10.2 inches in the diagonal. The resolution is still unknown, but if the past is any indication, it would be the same hi-res 2560x1700 we've seen in the second gen Pixel. The Pixel C will have a keyboard, but it is a separate accessory that attaches to the tablet half. The keyboard is said to come in aluminum and leather versions. The Pixel C will also still have that light indicator on its back for battery levels.
As for the rest of the specs, the Pixel C is expected to run on the latest NVIDIA Tegra X1, still currently the top dog in the market, with 3 GB of RAM. It will have a USB Type-C port just like its predecessor, which might also be a reason for the name. Storage will definitely be at a low, considering how Pixels tend to rely on the cloud a lot. Given that it is Android running here anyway, that might not be too big a deal.
It is certainly mind-boggling that Google would put out new kind of Android tablet, when it already has a Nexus line just for that. The 2-in-1 nature of the device, however, might give a bit of a clue. Perhaps unlike a Nexus, this Pixel C will be marketed specifically for education and enterprise, sort of Google's answer to the threat of the Microsoft Surface Pro and now the Apple iPad Pro.
VIA: Android Police