Google Pixel C Review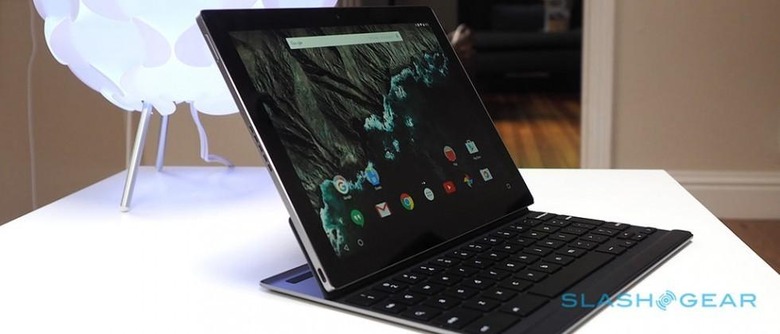 Google shows a deft touch for hardware at times, and the Pixel C is one of those occasions. It's a clear cousin to the Chromebook Pixel, with a squared-off anodized aluminum casing and Gorilla Glass protected display. The refreshing absence of logos is presumably considered acceptable because of the color-changing LED light bar on the rear, which can show both the Google hues as well – when the tablet is tapped – as battery status.
Ports are as minimal as the rest of the design. On the one side there's a headphone jack, while on the other is a single USB-C, used both for charging and peripherals. I plugged in Apple's USB-C to USB adapter with a memory card reader, and Android automatically recognized it and allowed me to browse the contents.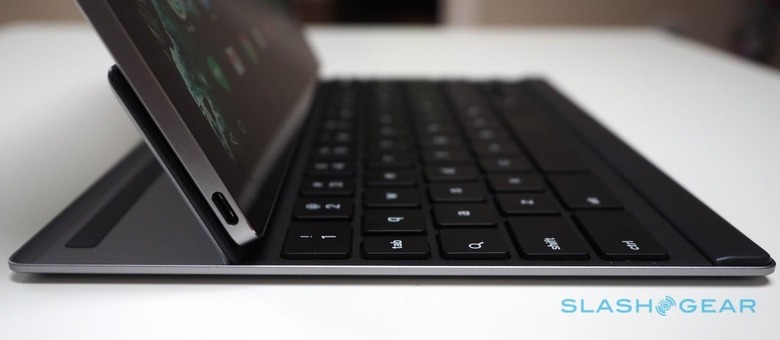 Speakers on both short edges are fairly loud though lacking in bass. I'd say that's as you'd expect from a tablet, but manufacturers like HTC have shown – with the Nexus 9, no less – that you can squeeze out more low-end boom if you're so inclined. An 8-megapixel camera on the back could, in a pinch and if you have no self-respect, be used for photography, but frankly I wish it was above the display instead of the 2-megapixel camera the Pixel C offers for video calls.
Inside, there's NVIDIA's Tegra X1 chipset with 3GB of LPDDR4 memory and either 32GB or 64GB of storage. No memory card slot, mind, so pick wisely when you order: if you want to expand, you'll need to look to the cloud. The Pixel C has a WiFi a/b/g/n/ac 2x2 MIMO radio (with both 2.4 and 5 GHz support) along with Bluetooth 4.1 for getting online, but no LTE modem option, unlike iPad rivals.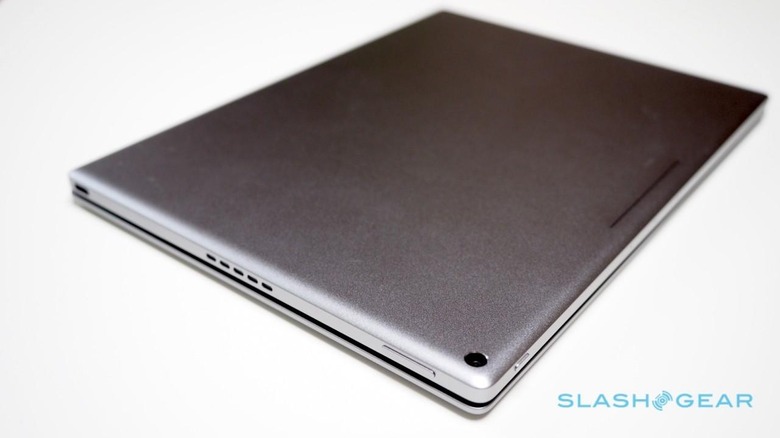 Similarly absent are GPS and NFC, and while you might not want to use your tablet as a credit card replacement with Android Pay, it means you can't use Tap & Go from an existing Android tablet. Google also left out any form of biometric security, an odd decision given both the Nexus 5X and 6P have fingerprint scanners.
More controversial is the display. For years now, tablet screens have fallen into two camps: either 4:3 aspect ratio, as Apple opted for with the iPad, or widescreen, either 16:9 or 16:10, as seen on many Android tablets. Each has its advantages and its disadvantages; its fans and critics.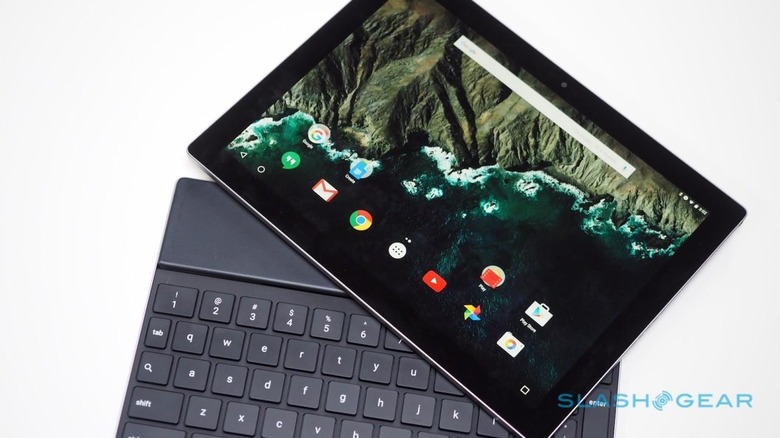 Google throws a new aspect into the mixture, the square root of two, more commonly known as being the same – proportionally – as a sheet of A4 paper. At 10.2-inches it's a little smaller than A4, but it keeps the magic ratio: split the display into two portions, and each half has the same aspect ratio. Split each of those again, and all four will still have that same ratio.
The argument – and it's one that both makes plenty of sense and, perversely, is squandered in practice; more on which shortly – is that such perfect divisibility pays dividends for multitasking. Two portrait tablet apps would fit neatly side-by-side in landscape orientation, without the developers having to do anything fancy with layout changes.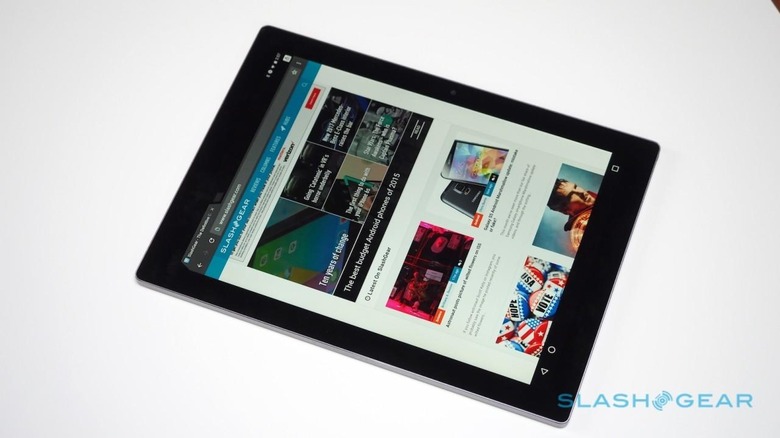 It's a great panel, too. 2560 x 1800 resolution means, at 308 ppi, it's pixel-dense and crisp. The 1,500:1 contrast ratio and 500 nits of brightness mean blacks are as deep as you'd hope for, without opting for an OLED panel at least, while you can also use the Pixel C outdoors and still see the screen.
Google sells the Pixel C on its own as a tablet – the 32GB model will set you back $499, while the 64GB is $599 – but, like the Surface 3 and its Keyboard Cover, it really feels as though it's meant to be paired with the official Pixel C Keyboard.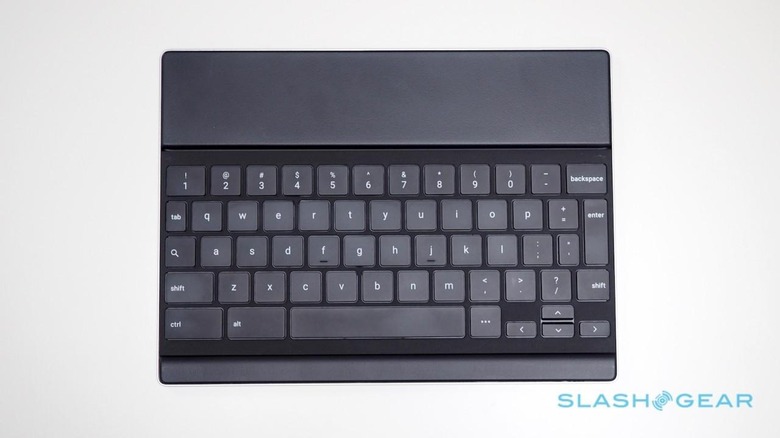 A further $149, the Bluetooth peripheral matches the smokey aluminum aesthetic of the tablet, and in many ways is similarly clever in its design. Google has kept it slim by eschewing ports altogether; it charges inductively, whenever it's nestled up against the Pixel C. An adjustable stand holds the tablet at between 100- and 135-degrees.
Magnets hold the two together – as well as automatically pairing and unpairing the Bluetooth connection – and though it takes a little practice to get the clip-and-tilt process smooth, there's no worry about them inadvertently detaching. In fact, actively removing the Pixel C can be tricky at times; the solution, I found, is to pull it forward until the stand reaches the limit of its angle, at which point the tablet pops off.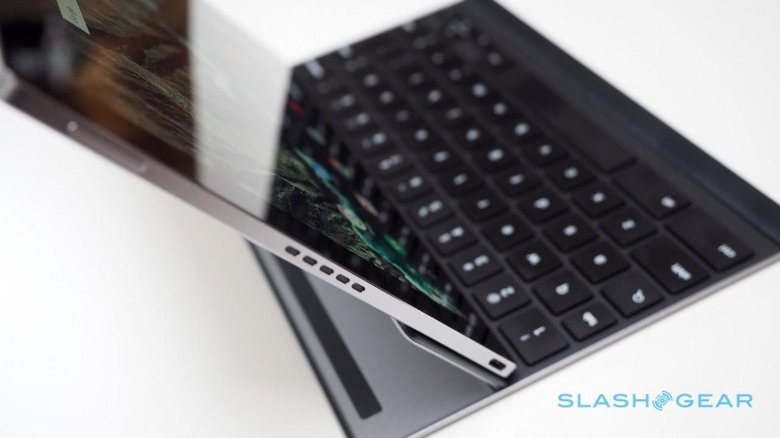 Given the dimensions, Google couldn't quite fit a full-sized QWERTY layout. All the same, the keys are large enough and sufficiently separated that I didn't have much of an issue getting up to speed. Each has 1.4mm of travel, which is on the long side for a tablet keyboard accessory, though there's a slight mushiness which undermines overall feel.
For all its cleverness, I feel like the keyboard still misses a few obvious tricks. By opting for magnets rather than a physical latch it could feasibly have been designed to hold the tablet in portrait orientation, too, but it doesn't. There are no special keys to jump around Android or control volume, either, beyond a dedicated search button (though hitting search and enter does, usefully, take you back to the home screen). No trackpad, which would admittedly be tough to squeeze in, but a ThinkPad-style navigation nub would've been a nice addition.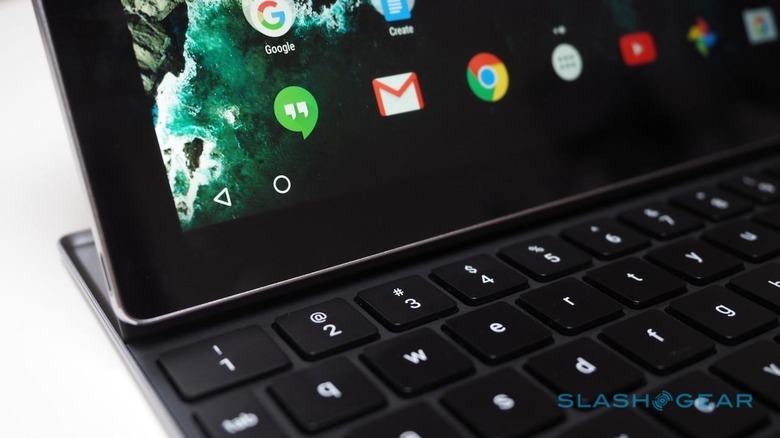 As a cover, the tablet clings to the keyboard with the sort of enthusiastic grip I'd normally associate with Tom Cruise dangling from a plane in the Mission: Impossible franchise. Annoyingly, though, it'll only clip into place in one orientation; try it the other way around, and the magnets will instead repel each other. Even after an extended period using the Pixel C, I still have a roughly 50/50 success rate of getting it the right way on the first attempt.
The resulting bundle is surprisingly heavy. With the Pixel C weighing in at 1.13 pounds, and the keyboard adding 0.87, you're looking at two whole pounds of tablet. In contrast, the iPad Air 2 is 0.69 pounds; pair it with Logitech's skinny aluminum keyboard, and you're looking at 1.4 pounds overall.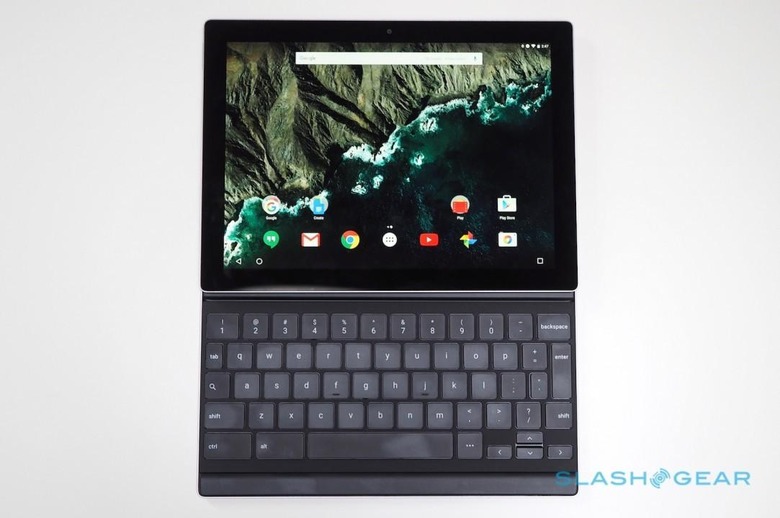 In fact, you can have the iPad Pro and its Smart Keyboard for 2.31 pounds in your bag, and that's getting you a fair more display, too. As a MacBook user, I was curious to see that Apple's skinny ultraportable notebook is only 0.03 pounds heavier than the Pixel C and its keyboard.
With the MacBook, though, you get a full copy of OS X. The Pixel C gets Android.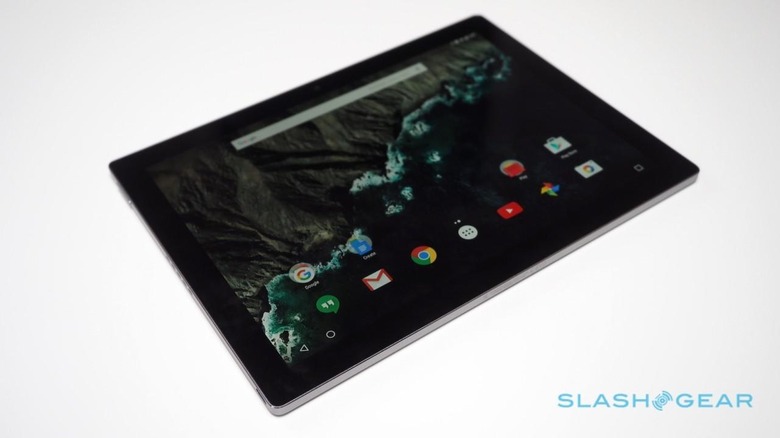 Tablets running Android are nothing new. In fact, the open-source nature of the platform means that most of the cheap tablets out there do in fact use Google's OS. That's despite the fact that the overall experience is patchy at best.
Android 6.0 Marshmallow – which, Google is quick to point out, the Pixel C was developed specifically for – is the best iteration for slates so far. If you've used it on a smartphone you won't be too surprised, bar the split layout of the navigation keys: "back" and "home" are pushed all the way over to the left, while "recent apps" is on its lonesome on the far right.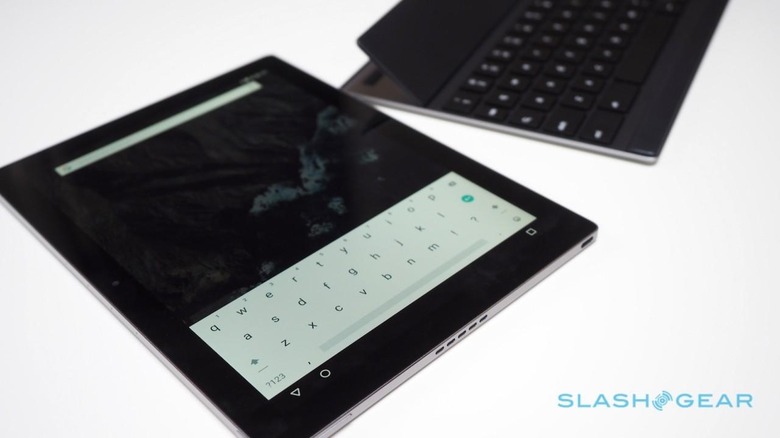 It runs swiftly, too, the Tegra X1 and plentiful memory showing their worth. I had no issues with jumping between apps, and the few games I tried were smooth and lag-free. The whole thing feels responsive.
Unfortunately, third-party app developers still haven't caught up with tablet versions of their software, at least not to the same extent that the iPad benefits from coder attention. Some only have interfaces suited to phones, still; others have UIs made with bigger displays in mind, but only for landscape orientation.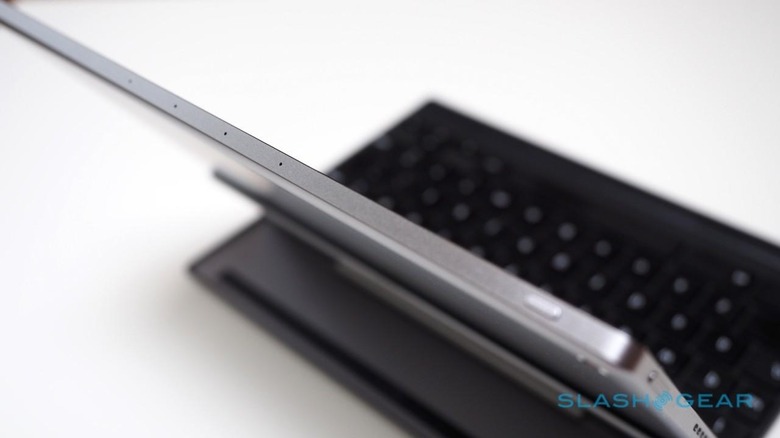 Here's where that split-screen layout magic should step in and save the day, but right now it doesn't. Developers sifting through the depths of Marshmallow's code have found inklings of dormant functionality that would do just that, but Google is yet to enable it.
That seems like an obvious case of "when" not "if", mind. After all, why focus on the odd aspect ratio – or, indeed, go to the effort of picking a panel that offers it – if you weren't going to use it down the line? Still, with no public timescale for when it might arrive, it's hard to give the Pixel C credit for it today.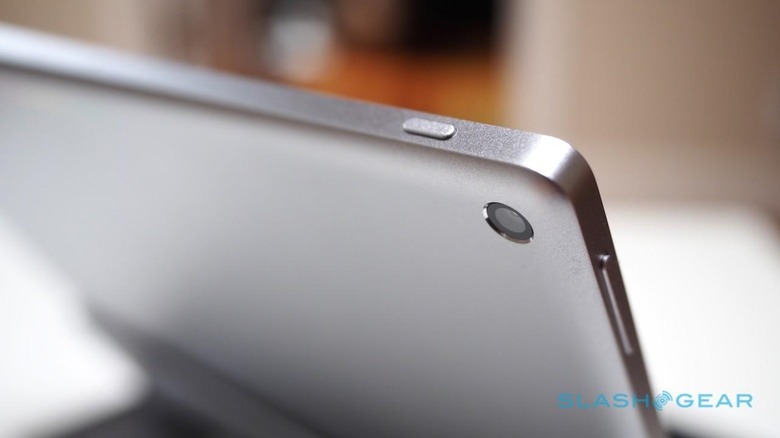 In fact, the more I used Google's tablet, the more I wished it was Chrome OS rather than Android that ran on its NVIDIA heart. At least that platform's browser-centric world could be relied upon to better contort to the display.
All the same, even with Android's limitations for the form-factor, I have found myself reaching for the Pixel C. The lap-scale size makes for a comfortable experience on the couch, whether catching up with emails or hammering out documents in Google Docs. Web browsing is another strength, with the tenacious magnets having an unexpected side-effect: holding the Pixel C to the refrigerator door, ideal for keeping a recipe, YouTube, or Netflix to hand but out of the way of splattering food.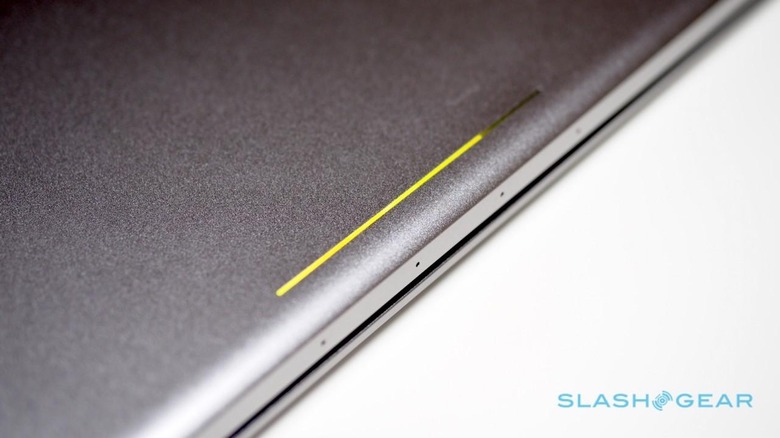 The 34.2 Watt-hour battery should be enough for around ten hours, per Google. With mixed use, I spread a full charge across 2-3 days on average; video obviously takes a bigger hit, and you're looking at more like eight hours of playback alone.
Recharging with the supplied 15 Watt charger is pleasingly speedy, and the wall-wart itself is gratifyingly small. Notably, you can use it in a multiplug outlet without blocking adjacent sockets, which is more than I can say for my MacBook charger.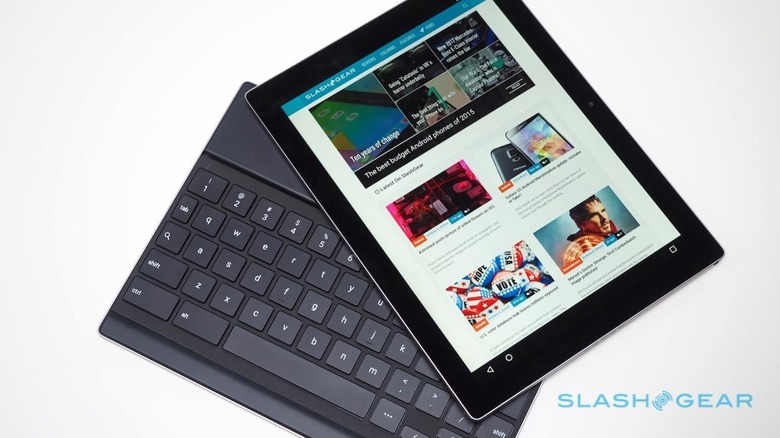 There's a lot to like about the Pixel C. The hardware is beautifully designed and finished, the magnetic system is clever, and the performance is whippet-fast. It feels like it's ready and waiting for a version of Android that is similarly practical, and there the whole experience starts to slide.
NOW READ: NVIDIA SHIELD Tablet K1 Review
Microsoft's Surface 3 has a full version of Windows 10 to play with, and can currently be had – with keyboard – for under $479. The iPad Air 2 gets iOS' native multitasking abilities and a well-stocked App Store of third-party software. In contrast, you pay handsomely – $648 at least, for Pixel C and accompanying keyboard – for a software experience that, frankly, can be replicated on any other Android tablet a fraction of the cost.
The potential is there, certainly. I'd just recommend waiting until the Pixel C lives up to it in practice before you open your wallet.
[gallerybanner p="420142"]