Google Pixel 3 leaked fully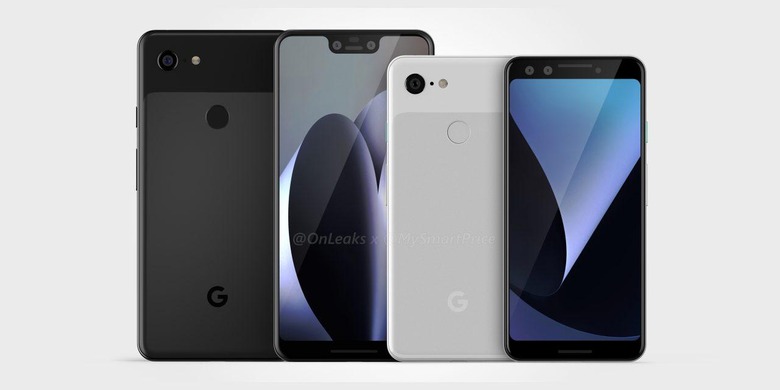 The Google Pixel 3 and Google Pixel 3 XL leaked in fully-formed renders this morning, in two colors to boot. These devices were leaked by the now-infamous OnLeaks, a person who's become shockingly accurate in his predictions of the industrial designs of smartphones in the past several years. In these renders, we see a smaller Google Pixel 3 with a fully rectangular display (with very round corners), and a larger Google Pixel 3 XL with a notch on its forehead.
The larger Google Pixel appears here in black and the smaller Google Pixel appears here in white. Generally this leakster gets the colors fairly accurate and the size and shape of the devices spot-on... so we're going to go ahead and assume it's all over but the shouting at this point. These devices likely have the same specs as leaked earlier this month, complete with single-lens cameras at their back and dual-lens cameras up front.
What a strange set of features, right? It would appear that we've got front-facing speakers, no headphone jack, and extra-round edges. The back of these devices have extra-round edges between aluminum and glass, and there's one big camera lens. Google's likely comfortable with where they're at for cameras – on the back, anyway. When you've got one of the best-rated cameras on a phone in the world, why mess it up by adding another lens?
SEE TOO: Pixel 3 1x camera? NOOO!
The Google Pixel 3 shown here seems to have the same sort of back-facing fingerprint scanner at the same time as it's got the ways and means to provide some high-level facial-scanning unlock action. Don't be surprised if it has more than one way to lock up the contents of its character!
The Google Pixel 3 will likely be shown by Google to the public in early October of 2018. It'll likely be released by the end of October, 2018, in both large and small sizes. Cross your fingers for wireless charging – though Google's given no indication of their intent to bring back the beloved charging of the device without the wires – we'll see!